Experimental games, interactive installations, and other cool projects from Copenhagen and beyond
By sbn on March 27th, 2015
Quick note if you're in or around Linz, Austria – swing by Pixelporno 0.2 where Dark Room Sex Game will be exhibited.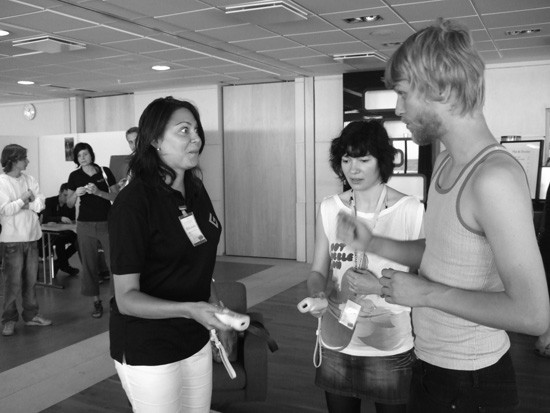 By Patrick on March 17th, 2015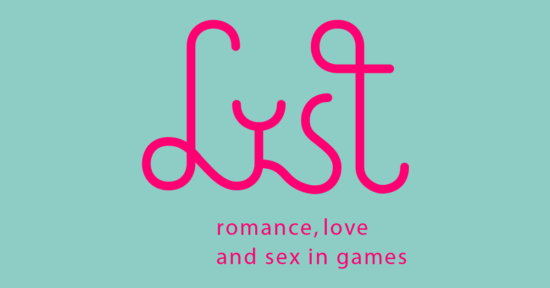 We are pleased to announce the Lyst Summit 2015, the 2th annual Summit about Romance, Love and Sex in games. We have now created a network of groups and individuals that will help os make the Summit a reality for the next 3 years. The next summit will happen in Helsinki in  5-7th of June 2015.
Read more about Lyst in our previous blog post or on lyst-summit.dk.
Submission
If you think you have something that would fit our summit or something on your chest, we invite you to submit a proposal in our open call.
We can provide travel (inside Europe), accommodation and a bit of per diem for our speakers and all speakers are more than welcome to stay for the whole duration of the summit and participate in the Game Jam.
Deadline for submissions is 23:59 CET on the 6th of April.
More detailed program of the event will be announced later. (For further updates; watch this blog, check the webpage or follow us on Facebook).
Any other questions? Send us an email: info@lyst-summit.dk
Please submit now

By K on March 10th, 2015
We are pleased to announce that the deadline for substitution to Nordic Game Indie Night 2015 has been extended to 1st April.
We have also made a couple of changes to the board game submission rules.
It´s OK to change rules and design of a board game after submission – as long as you inform the curators.
Designers can get their physical prototypes back if they personally collect them in Copenhagen. Just contact the curator-team.
More information about submission and the event can be found here.
Games can be submitted using this form.
By K on February 18th, 2015
Photograph by Gemma Thomson
We are pleased to announce the Nordic Game Indie Sensation Award 2015, the 6th annual Nordic Indie Night Showcase. In collaboration with the Nordic Game Conference we will showcase a number of talented and interesting indie developers from the Nordic countries.
If you have a game that you feel deserves some more recognition, we invite you to submit your game to this years Nordic Game Indie Night. Last year's showcase featured some awesome games, and we look forward to seeing your game this year. Read more »
By K on February 4th, 2015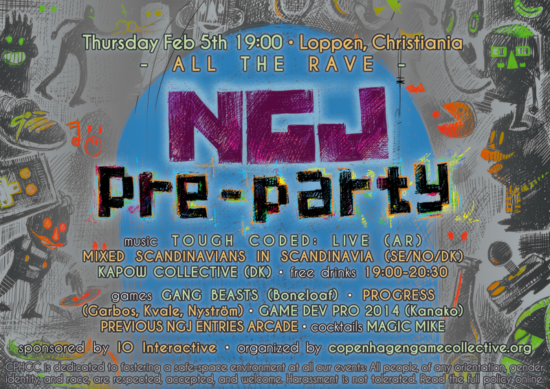 So Nordic Game Jam 2015 is coming up this weekend (assuming you aren't reading this from the future. If you are, I hope you had a blast).
Anyway, as usual, Copenhagen Game Collective will be hosting the Pre-Party the night before, to get all you jammers in the mood for 48 hours of sitting in one place staring at a monitor.
This time the party will be held at Loppen in Christania and is sponsored by the awesome IO Interactive.
So see you all there on Thursday 5th at 19:00 to dance to awesome music and play some great games (Free Drinks courtusy of IO until 20:30)!
By Ida Toft on December 13th, 2014
*** Merry Christmas everyone! ***
We have started the preparations for the Nordic Game Pre-party and this is one of the very first things we want to get in place: announcing of our Safer Space Policy. It is now official and will from now on be executed and can be referred to in all events we are responsible for.
The Safer Space Policy is here because we want to make sure that you know that if something or someone makes you feel uncomfortable at one of our events, no matter how minor it seems, you are encouraged to report it to us.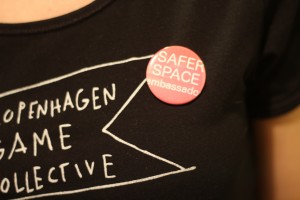 Copenhagen Game Collective works voluntarily to create an inspiring and cultivating environment of experimental and diverse game making. Every event we make is an effort in creating a space for experimental makers, players, critics and thinkers to meet, discuss and find inspiration. And every event we make is an invitation to new people to get involved because we believe that game creation is a social activity. In this social space diversity and difference is key. Every weird experiment, every new perspective and every unique contribution enriches our medium. Games are excellent platforms for individual expressivity, – humour, joy, stories, fear and hopes, weirdness, silliness and anger – and it ought to be a platform for everyone.
Although we are lucky and proud of the vibrant scene of experimental game making in and around Copenhagen we know we can do better. Situated in the Danish and Scandinavian culture we tend to deal with social problems in discrete and informal ways. We do appreciate the trust this signals, however, incidents of harassment and participants feeling uncomfortable at game events is a call for a more formal procedure. We actively want to reach more diverse audiences than the typical white male gamer maker and we want those audiences to feel safe and welcome. We believe an effort to create a safer space is a good first step.
We need your help to make this happen
1. We would like to hear from you, our guests and participants at previous events. If you have experienced anything that made you feel uncomfortable, or if you have any suggestions to what would make Copenhagen Game Collective run safer events please fill out this form: http://bit.ly/15BE45k – we hope feedback from you will continuously help us improve policies and attitudes that make everybody feel welcome.
2. While we hope to form the best policy based on feedback from you, we don't want to wait. We will from now on have our best shot at a Safer Space Policy publicized at our website (at the bottom of this blog post), we will make sure to direct attention to this policy in our communication about events, and we will take steps to internally educate all volunteers at the Collective about these policies so they know what steps to take in any given situation.
Game culture has for years been charged with sexism, racism, discrimination and harassment of various kinds. Members of the Collective are dealing with this on a regular basis and we have no reason to believe that this is any different for the guests at our events. Although we cannot guarantee a space free of discrimination and harassment, we officially encourage everyone to change this together. Please speak up if you experience any form of discrimination or harassment – whether this is targeted at yourself or someone else. Please join us to enforce the Safer Space Policy!
Our Safer Space Policy
Copenhagen Game Collective is dedicated to fostering a safe-space environment at all our events: this means creating a space where all people, of any orientation, gender identity, and race, are respected, accepted and welcome. Harassment is not tolerated.
Harassment includes offensive verbal comments — related to gender, sexual orientation, disability, physical appearance, body size, race, religion, antisemitism, language, or otherwise — deliberate intimidation, stalking, following, harassing photography or recording, sustained disruption of talks or other events, inappropriate physical contact, and unwelcome sexual attention. Guests asked to stop any harassing behavior are expected to comply immediately.
If a guest engages in harassing behavior, Collective members may take any action they deem appropriate, including warning the offender or expulsion from our events. No refunds will be offered in the case of expulsion from a paid event.
Attendance at Copenhagen Game Collective events implies that the participants agree to, and will abide by, these rules.
If you are being harassed, notice that someone else is being harassed, or have any other concerns, please contact a Safer Space Ambassador, recognizable by a Safer Space button, see image.
Safer Space Ambassadors are ready to help out in any possible way, e.g. contacting venue security or local law enforcement, provide escorts, or otherwise assist those experiencing harassment to feel safe for the duration of the events.
Whilst we would like to feel that we offer an environment in which you can voice concerns about incidents as and when they happen we also welcome you to reach out to us to inform us of past harassment or incidents related to our events which made you feel uncomfortable or unsafe.
We value your attendance!
Local law enforcement: [Emergency](+45) 112 [non-emergency] (+45) 114
Local sexual assault hot-line: Danners Krisecenter, open for personal advice all days between 11-14.30
[Adress] Nansensgade 1, 1366 København K
[Phone hotline] +45 3333 0047
For injuries or sudden illness: (+45) 1813
Local taxi company: +45 35 35 35 35
***Note for safe/anonymous reports of harassment***
We believe people should feel safe in reporting issues of harassment. When contacting collective members, by word or mail, your reports will stay anonymous unless otherwise stated. Your privacy is of utmost importance.
We can be reached at: info@cphgc.org
*****
The text for this policy is adapted from http://geekfeminism.wikia.com/wiki/Conference_anti-harassment
By sbn on October 27th, 2014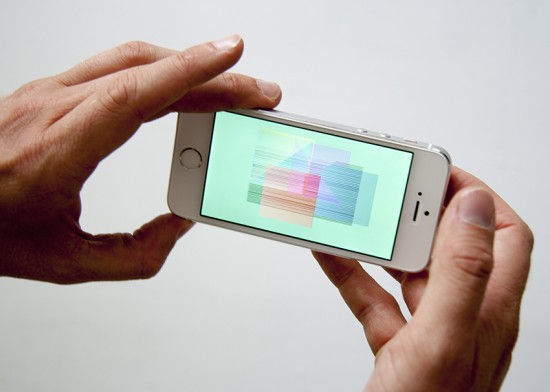 Friend of the Collective Anders Monrad will shortly be releasing his app Virtuoso for the iPhone. Virtuoso is a gestural music app with unusually (for a phone app) deep sound generation possibilities. The app is curated by Haandholdt. It is also delightfully dance-like in use.
On this coming Thursday at five, Nikolaj Kunsthal is hosting a release event. Here, you'll be able to hear the app in concert, and listen to Monrad in an artist talk with – and this is quite a scoop – composer Fuzzy,  Danish electronic music-grand old man.
Here it is in action:
By Dajana on August 26th, 2014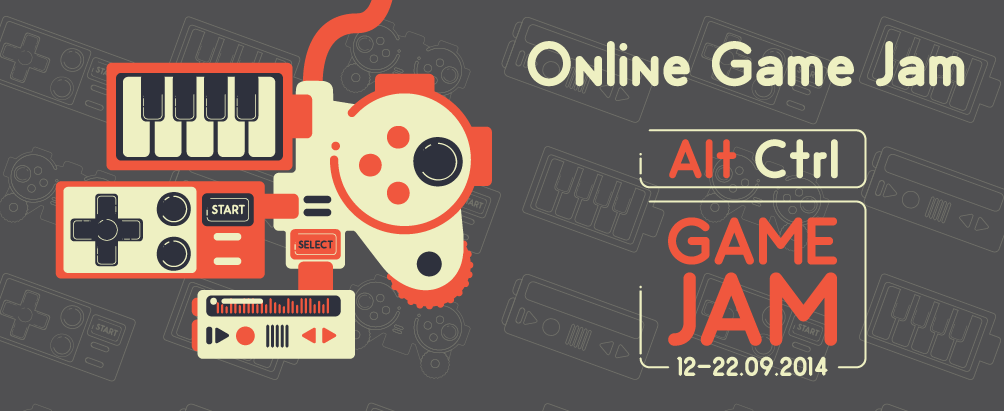 We are excited to announce that we are co-organizing Alt Ctrl Game Jam, an online game jam about experimenting with game controls. The jam will be happening from Sep. 12th – Sep. 22nd. It is a 10 day jam with a goal to inspire the use of alternative controls in games.
So take out the duct tape, soldering iron, some spare parts, a development board (like the arduino), old controller shells you have laying around, and make the ultimate controller for your game.
If you don't feel like you're too good with gluing things together, soldering etc, you can get creative with the things you already have: Kinect, PS move, Wii Remotes, brain scanners, etc.
The jam is online and everyone can participate, but we have also worked on setting up a few physical locations for jammers. We have two confirmed locations: Skopje in Macedonia and Aarhus in Denmark. More details and specifications for the physical locations are coming soon.
We also encourage supporters from all over the world to organize and setup local hubs for the jam. If you do so please write to us at info@cphgc.org and we will announce your location.
For more details regarding the game jam, participation, voting, awards… check out the official Alt Ctrl Game Jam page.
By Patrick on June 24th, 2014
Thinking back at Lyst now, I can't say anything else than it was really amazing. I can't think of one thing that was not great! On so many levels: Speakers, food, people, games… It was the first time for someone from Copenhagen Game Collective and Game Girl Workshop to come together and organize something like this, and we were quite nervous. Especially taking the topics into account: Romance, love and sex in games. It felt like so many things could go wrong, on so many levels.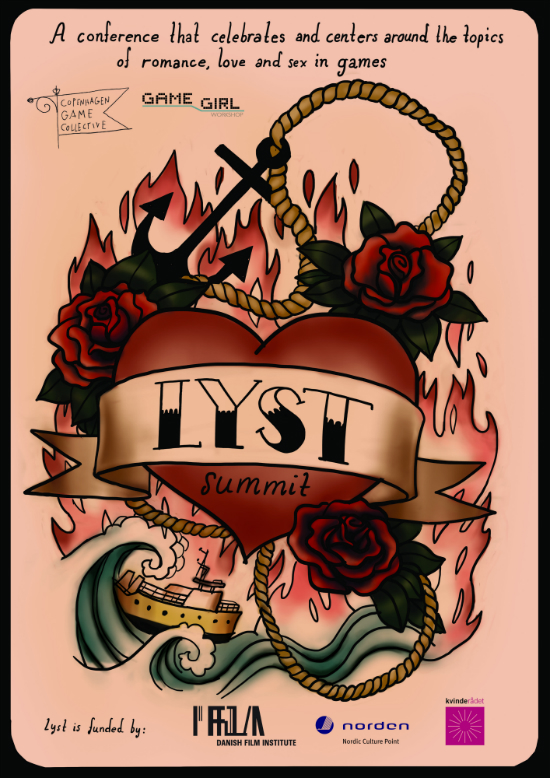 Patrick Jarnfelt from CphGC and I, Andrea Hasselager from Game Girl Workshop first started collaborating on the iPad game Moontide (still in production), an abstract game that emotionally follows the female cycle. We quickly found out that we were a dynamic duo, and when Patrick told me about the idea that had been circulating around Copenhagen Game Collective for a while: A game jam about relationships emotions, and sex, I was like 'Let's do it!' CGC had been a bit hesitant about doing it, because of it being sensitive topics and stepping into the (important) and ongoing discussions in the games industry, right now. I guess our conclusion was: Yea, we will probably make mistakes, but if you don't start somewhere, you will never start. Read more »
By joon on May 26th, 2014
The audience favorite at the 5th Nordic Game Indie Night during the 10th Nordic Game Conference was Among the sleep, by Krillbite. Thanks to all participants, nominees, the winners and everybody who voted, as well as Nordic Game for having us. And thank you for attending the Nordic Game Indie Night live, and supporting us in experimenting with talks, giving the stage to projects and people that we think deserve the spotlight.
Read more »
Twitter

RT

@progressto100

: Be like Hodor and play Progress before it's out. https://t.co/rZUL0Z7nMZ Sign up for beta here: http://t.co/nvO2wC5243

09:19PM - 22 Mar 2015

RT

@conorlinehan

: paper about

@idamarietoft

@enibolas

et al amazing game "cunt touch this" http://t.co/aCwdq7OqAj at #chi2015 embarassing …

03:51PM - 20 Mar 2015

RT

@glitchnap

: Glitchnap has job openings for an upcoming mobile project: http://t.co/GuZCMjt1Fx (please RT)

01:16PM - 20 Mar 2015

Featured posts