Interview about a yellow banana
Writing our retrospective blog post made me think about the trip to the Maldives. Besides us in the collective, there were also other game designers that were doing other cool stuff. Andrea Hasselager, that I had the opportunity to work with since, and William Drew were also part of the team. They were working on another project that I was only marginally involved in, but very fascinated by. They were doing a performative game about a human size banana.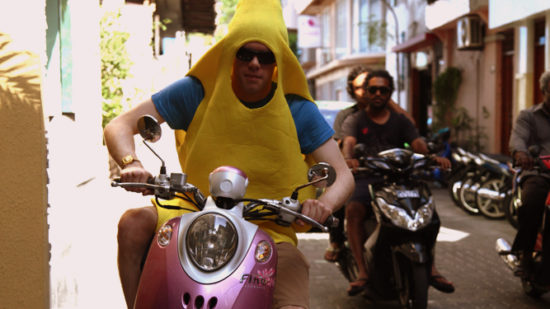 I have my own ideas and thoughts about my work in the Maldives, but I wanted to know more about her experiences there. That's why I interviewed her for this blog post and you can read about it here:
Can you describe the project for those who don't know what it is…
The Hunt for the Yellow Banana was a citywide cross-platform game story that took place in Malé in April 2013. It began with the distribution of flyers in English and Dhivehi and the putting up of posters announcing that a Banana had gone missing. There was a photo of an identifiable human in a banana outfit with sunglasses on with an e-mail address and phone number to contact in case anyone spots the Banana. Members of the team (principally the game's core design team Andrea Hasselager and William Drew) would then appear as the Banana in different parts of the city. There was a website with a map that would mark sightings as well as a Twitter hashtag. In the lead up to the final live event, which was a race to be the first team to find the Banana, the narrative took a shift whereby the Banana, alone in the city and having discovered its autonomy, was feeling depressed and had been contemplating suicide.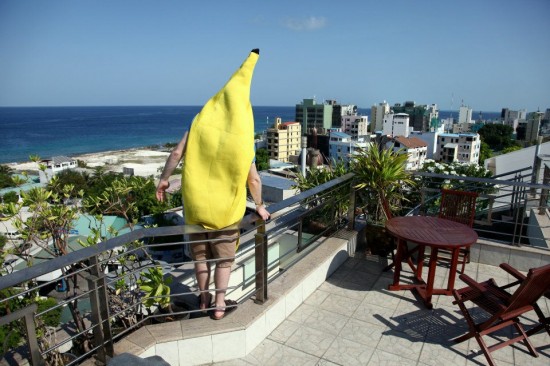 There were various clues posted online as to how the Banana might choose to end its existence on Earth. After the designers flew back home, the Banana inexplicably made simultaneous appearances in both Malé and Venice. Since then there have been occasional sightings in bars and clubs in Copenhagen and at Roskilde Festival, though the jury is still out on whether these are the original Banana or copycats.
Why a banana? Does humor play an important role?
Yes. I find that often in my work I make use of the 'Trojan Horse strategy', which is inventing something light and fun, with a hidden deeper meaning, only to be discovered when you take part/play. By making people laugh, smile or be surprised they lower their guards and you can perhaps challenge how they think about something, get a massage across, or just shake things up a bit.
The Banana has gone missing and it's in trouble. Help us to track down this rogue fruit by calling 7671478, e-mailing whereisthebanana@gmail.com or tweeting @bananahunt with info on its whereabouts.
How is it to design for a different culture? What experiences did you get?
Designing for a different culture is of course ..Different! You have to adjust, of course, doing street games in a Western urban city envrioment, you would have to come up with something really different or spectacular to get noticed, but you would also have a broader acceptance of what you could do, because people are living in an urban culture, where there is also a culture for flash mops, street games, performances etc happening, which means it is not such a big deal. On the down-side that could mean that what you do will not get noticed. In a place where you do not have a culture around such interventions in the streets, you need to start in a more basic place, where everyone can take- and feel part, laugh and have a good time. Which is also one of the reasons why we choose to use a human-size big bright yellow banana.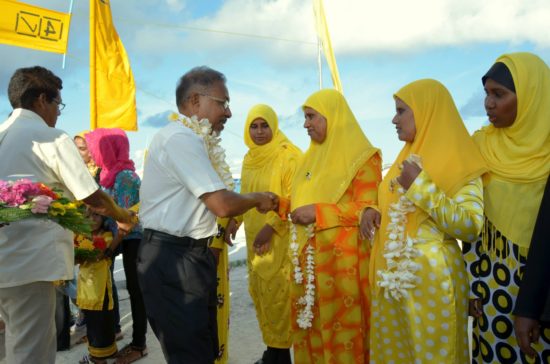 Not all people met the Banana with smiles, some people in the streets of Malé met us with suspicion: ' What is this about, REALLY? 'Who are you working for?' 'You can't do this here', where some of the comments we got.
Is there any thing you would do different if you went back in time, or did it again?
We were pretty happy with how the Hunt for the Yellow Banana turned out and especially because we had a very wide range of age groups participation in localizing the banana. Thinking back a smart thing might have been having a Banana costume NOT made by a synthetic material, as we were literally frying inside it, in the 40 degrees midday sun. – And if we'd have some more time to design the final game, we could have made it a bit more elaborate.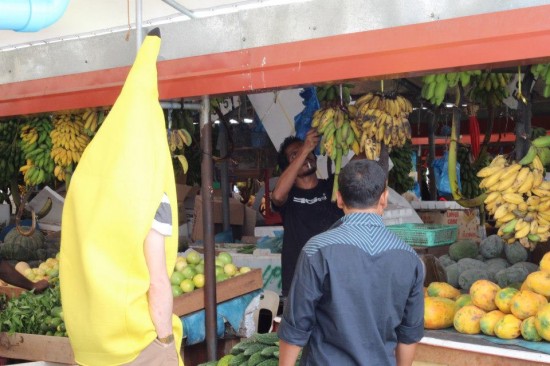 What other things are you working on?
Currently I'm setting up the first public space for digital art in Denmark, DIAS, it is in a functioning train station and we are opening the 14th of March 2014, with a mix of national and international digital artists. Along with Nevin Erönde, I've started the global concept Game Girl Workshop, where we motivate and inspire teenage girls to take an interest in technology, by making short intensive workshops, where they learn how to make computer games. We've done workshops in Palestine and we are currently planning a return to the Middle East doing workshops in Saudi Arabia and Iran. This summer, in May, along with Patrick Jarnfelt I'm making a conference on romance, love and sex in games: Lyst-summit.
I'm also working on an iPad game that emotionally follows the different stages in the female cycle, MoonTide Traveller.