OR WHAT HAPPENED AT THE PIXELPORNO 0.2 EXHIBITION IN LINZ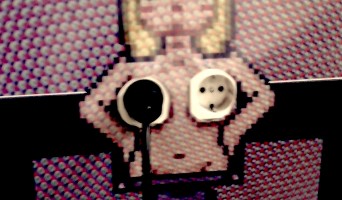 Days are getting darker, blog posts successively more nostalgic. This time, we're remembering our trip to the Pixelporno 0.2 exhibition in Linz (AT) where we gave a talk on intimate design, showed Cunt Touch This and ran Dark Room Sex Game for a night. At least that's the things we set out to do there. What we didn't know is that the Linzers are not only hard to impress, but eager to try things out, experiment, go wild. This is how we ended up in an enthusiastic modding session of Dark Room Sex Game; blinking controllers dancing between swaying bodies, pelvises banging against each other. Dark Room Sex Game: The Hip Edition was born.
Since no official records exist of that evening, let's try to revisit the scene, and imagine the things that might have gone on in the mind of the modder.