B.U.T.T.O.N. is out for PC!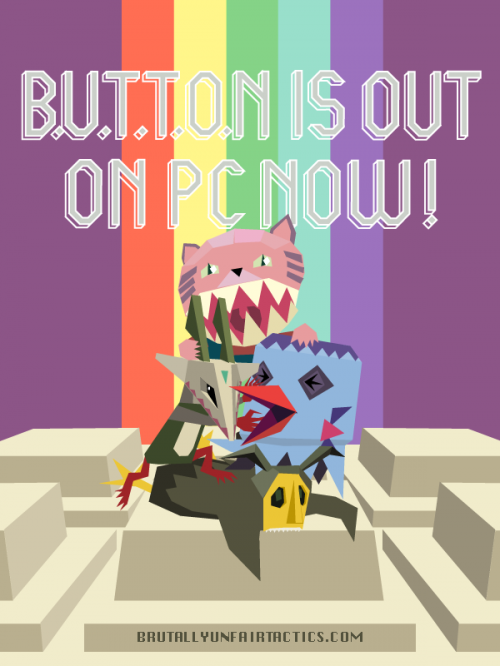 In case you missed during all the GDC madness: our silly party game B.U.T.T.O.N. is now out for PC! For a mere $3. Grab it now!
There are two places you can get the PC version:
1) The game is available on Steam, here. The Steam version features a bunch of zany/satirical achievements! Already, 1.1% of our players have unlocked the "Awkward Christmas" achievement. But wait, the game has only been out since late February… cheaters!
2) We're also selling the game off our own website, here. Our website version, unlike the Steam version, features "Naughty Mode" (adult content!). What does that "naughtiness" entail, you ask? Naughty Mode introduces commands such as:
"Put on an article of clothing belonging to another player"
"All losers this round have to strip an article of clothing"
"All players who have 'done it' in public, kneel down"
Both versions feature a ton of new commands, and even some new music from Nifflas!
We're also selling Nifflas' excellent soundtrack, for only $2, here. Here's a taste:
Kissing Another Player (B.U.T.T.O.N.) by Nifflas
Of course, we're also still selling the game on Xbox Live Indie, here.
Some day we'd like to offer versions in other languages, and support user-written text more generally. We'll do what we can!
If you like the game, please help spread the word.
Happy playing everybody!
And in case you've never seen the game before, this is what it plays like: