<- Back to projects
B.U.T.T.O.N. (BRUTALLY UNFAIR TACTICS TOTALLY OK NOW)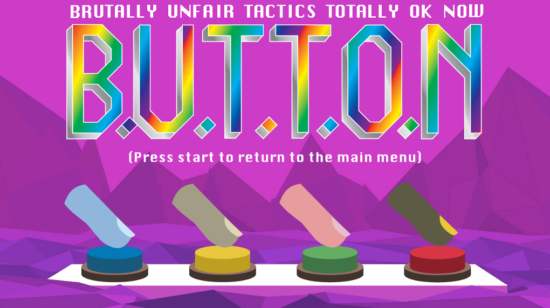 B.U.T.T.O.N. (Brutally Unfair Tactics Totally OK Now) is a one-button party game for 2-8 players.
The game is now out on Xbox Live Indie, and PC (Windows).
B.U.T.T.O.N. has previously been showcased at:
Kokoromi's Gamma IV party at GDC 2010
Nordic Game Conference 2010
Roskilde 2010
IndieCade @ E3 2010 (… where even LeVar Burton tried it!)
Indie Games Arcade 2010 at the Eurogamer Expo
IndieCade 2010 in Culver City
… and was nominated for the 2011 IGF Nuovo Award!
Screenshots, Photos, and Videos:
See the B.U.T.T.O.N. Media page.
Read about this project in the blog
Information
The team
Douglas Wilson, Nils Deneken, Lawrence Johnson, Lau Korsgaard, Nicklas 'Nifflas' Nygren
Media