As mentioned by Doug, the MonkeyDonk team had the good fortune of being called to the Gotland Game Awards. MonkeyDonk is a game created at the Nordic Game Jam earlier this year.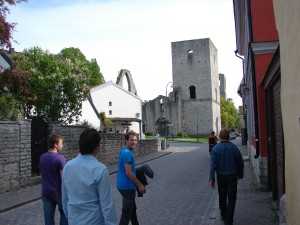 The Nordic Game Jam delegation consisted of five guys, Tim Garbos and Emil Kjæhr representing the game that won the popular vote at the jam, Only one can ride the donkey. Troels Jørgensen and I went on behalf of the MonkeyDonk team. Jesper Taxbøl went as the Nordic Game Jam representative, and, I guess, sort of a chaperone to keep the two teams from sabotaging each other's games at the convention.
All in all it was a sweet trip. Visby turns out to be a rather idyllic medieval city. It's home to the University of Gotland and, especially interesting, their Game programme. I had looked forward to gauging the quality of the student efforts there. All in all I saw some cool stuff, and all of it was very clearly a result of hard work. It was evident that the guys I went with who study at the IT University in Copenhagen would love this kind of funding and attention for their student presentations. Almost every student game had elaborate decorations and costumes. Especially cool is that the first year students are tasked with creating arcade machines: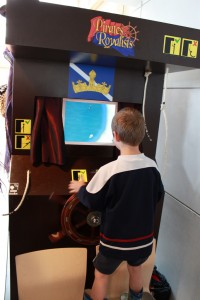 Like all software projects, the games on display had their share of  bugs and idiosyncracies, though, and especially the animation in general wasn't that impressive. I think most projects were also on the bland side, audio-wise, but that figures since Gotland University doesn't host any audio design education. Good efforts on the whole, and a decent amount of fun and innovation to be found among the games on display.
All in all, my biggest gripe with what I saw is one I've voiced with regards to the Danish efforts in game development education as well. I think that the artistic ambition of these game programmes are somewhat lacking. Imagine a film school where every production is confined to a specific, commercially viable genre (say, action films or romantic comedies), and where the creative spark of every script comes not from the mind of a creative writer but from a target group analysis. What I'm saying is basically that if the Scandinavian film schools were run like this, we would miss out on unique talents like, say, Lars Trier or Roy Andersson.
The award show itself was this extravagant affair with lasers, magnesium flares and the most powerful hazer I've seen in a while. Unfortunately, for an outsider, it was a bit hard to follow since the slides contained the wrong information and no motivation was given for individual awards. Especially the Unicef sponsored Human Rights award could have used an explanation.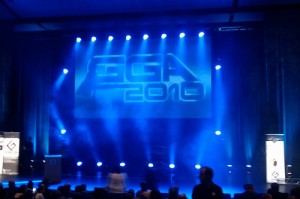 Anyway, Monkeydonk took Best Nordic Game Jam Game and Best Open and Invitational for which we're grateful. I have to say here that between the two Jam games, in my opinion it could have gone either way. I feel that the MonkeyDonk concept is the more unique, but the Only One team did a great job of making a game that's easy to pick up and comes with a simple but effective twist. I can see why it won the popular vote at the Jam, and it could have taken these awards just as easily.
Emil Kjæhr was kind enough to let me use his photos. You can see more at Emil's Flickr.
Oh, one other thing; turns out a company I've been watching with interest for some time, Frictional Games, also have their roots in the Game program at Gotland University. Frictional are the creators of the physics-based horror / adventure Penumbra games, and it surprised me to see their logo among the sponsors. Them being sort of indie and, as I understand it, working from home, it is heartening that they can nonetheless afford to support their old school.