ERVAX for 2 nominated for A MAZE!
So, our little game / compositional tool ERVAX for 2 has been nominated for the Most Amazing Indie Game of 2013. We are, of course, very honoured and find it a bit daunting to see the quality and scope of the other nominees.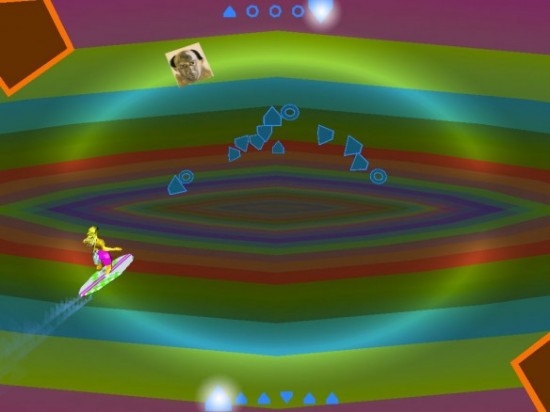 The competition
Before this, I only knew of three of the other nominees. I've played (and bought) Dear Esther and was vaguely aware that David Kanaga (of Proteus fame) had been working on some MIDI-hardware controlled project. And I've played Space Team once, when I happened to be in a room with enough iDevices.
Obviously, TheChineseRoom's Dear Esther is a project with an impressive scope, and a thought-provoking interactive experience all in all. Not to mention that it's, you know, finished and available from online retailers. I was especially impressed with how well-managed the art production seems – Dear Esthers environment art is gorgeous, and visually and aesthetically it rivals way bigger, more expensive productions.
Kanaga and co-creator Ed Key have broken a lot of ice where it matters with their serene music'em'up Proteus. Kanaga's and Fernando Ramallo's A MAZE-nominated Panoramical looks to be even more generative, and, dare I say it? Non-game-y. Which to me as both a game artist and a visualist is extremely interesting. And of course, last year Proteus took the grand prize at A MAZE.
Space Team by Henry Smith is just ridiculous, shouty fun. Especially the "symbols mode" is great, and I like the bio-blurb from the home page: "Hi, I'm Henry. I just quit my job as a programmer at BioWare to spend a year working on my own indie games."
There you have it, three reasons why this is a bit daunting company to find oneself in. I'm looking forward to check the rest of the field out in detail, and to meet their creators.
Reaching the non-gamers
I should mention that composer and ERVAX co-creator Monrad and I are very aware of a great deal of things we'd change if we were to start over from scratch creating ERVAX. That said, one aspect that is really important to both of us, and which has turned out to work better than expected, is that we wanted to bridge the gap between the fine culture of compositional music and the pop culture of video games. We feel that our inclusion at re-new Digital Arts Festival 2012 proved we were onto something with the game+contemporary music format. Since then we and two other Collective-members (Patrick Jarnfelt & Anders Børup) have even tried to raise funding for another sound-explorative art/game hybrid, FLOT.
And then today this happened: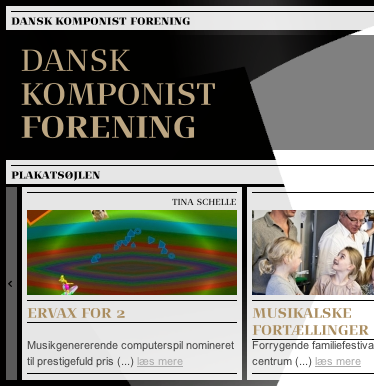 Yes, that's ERVAX on the front page of the Danish Association of Composers. Our evil plan is working!
So, here's to future playmates with high and low brows, and to meeting new friends in Berlin!
(Oh, and we've updated the web page for ERVAX, too)