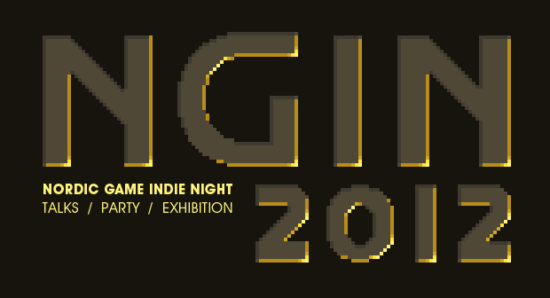 We are super duper excited to announce the NGIN 2012 program for the night. Remember that we have selected eight finalist games that will be showcased at NGIN on Wednesday May 23rd from 18:00 – 24:00 at Slagthuset, Malmö. The event is sponsored by Blackberry and it is open and free for everybody to attend.
We are also happy to announced that this year, same as last year, there will be a public voting for the best game, the winner team will receive the "Indie Sensation Award" at Nordic Game Awards May 24 and Unity Pro Licences by Unity Technologies.
PROGRAM
18:00 – 19:00 NGIN 2012 Game Showcase and Play Time
19:00 – 19:10 NGIN 2012 Summit Welcome by Copenhagen Game Collective
19:10 – 19:30 Richard Hogg will be discussing Whimsy
19:30 – 19:45 Juice It or Loose It by Petri Purho and Martin Jonasson
19:45 – 19:50 AAARRRGGGGHHH!
19:50 – 20:00 Beer Break
20:00 – 20:10 Why the f**k is Blackberry sponsoring NGIN 2012 by Anders Jeppsson
20:10 – 20:30 Talk by Nathan Vella
20:30 – 20:55 Here Is An Indie Game I Hate – Rant by Nifflas, Joel Nyström, Red Grim and Alexandra Mariner.
20:55 – 21:00 The Hottest Game Guy In The Nordics 2012 by Booth Babez With Brainz
21:00 – 24:00 NGIN 2012 Party featuring DJs Nifflas, Linde & Salkinitzor, Syltefar Selector and VJs Wizaro and Syltefar's Sidek1ck.
And here is the event on Facebook as well: http://www.facebook.com/events/215852811866976/
We are looking forward to Wednesday!