We can finally announce the finalists for this year's Nordic Game Indie Night Showcase. Our jury of Copenhagen Game Collective members, as well as previous finalists and game critics, researchers, and developers from the Nordic region has settled on eight games representing the breadth and quality of the Nordic Indie Scene:
Amphora, by Moondrop [Norway]
Backworlds, by Juha Kangas, and Anders Ekermo [Sweden]
Back to Bed, by Team 1up [Denmark]
Blind Monk, by Christian Andersen and Toke Odin [Denmark]
Flight of the Fireflies, by Jonathan Hise Kaldma [Sweden]
Neon Zone, by House on Fire [Denmark]
The Swapper, by Facepalm Games [Finland]
LAZA KNITEZ!!, by Team Buttfighters [Denmark, US, Belgium]
The eight selected games will be showcased Wednesday May 23th from 18.00 at Slagthuset, Malmö. The evening is free and open to the public and will features inspirational and experimental speakers and party all night. We will release more information about the program for the evening in the following days, stay tuned.
One of the games will be selected by public voting during the night to receive the "Indie Sensation Award" at Nordic Game Awards May 24th.
The Jury Chairman Lau Korsgaard has the following statement about the selection of the games:
"The Nordic Game Indie Night grows every year and this year has been the first where we have invited in an external jury to help with judging the games. This has been an extremely interesting and rewarding process but the sprawl of opinions and perspectives about what indie games are and should be has also made the selection process challenging. There has not been consensus about a single game and some judges favorites have been others most hated games.

We have chosen to let this diversity reflect the final selection of games, the chosen eight games are not compromises pleasing everybody but games that made a real impact on some of us. In fact, we think that is the most unifying aspect of what we call indie games: Not targeting everyone, but touching someone very specifically either aesthetically, mechanically, narrative, socially or physically."
Amphora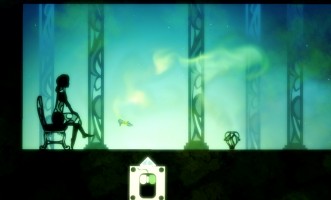 Amphora is a curious game: It is a physics based puzzle game set in a shadow theater world of fairytales. The goal of a level is very often unclear which creates a narrative challenge even before the physical puzzeling begins. Where does the glass shoe go? What does the girl want? Norwegian Moondrop, does not ease you into anything, but lets you tap into your knowledge of the inbuilt rules in tales and stories to solve the puzzles.
Backworlds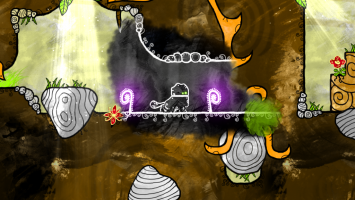 Many members of the jury were taken away by the beautiful art style of Backworlds. An almost felt tip pen-like aesthetic made it a joyful experience to visit the slow paced, lean back, sprawling and puzzling world(s) of the game.
Yes it is, yet another, "indie platformer with a twist" (and there will be more of those), but when the game is done with so much soul and love as Backworlds, we never gets tired of the genre.
Back to bed
Sleepwalking in a Dalí painting – that is the simple, but mesmerizing premise of Back to Bed. Can games be great art? Danish Team 1 Up tongue-in-cheekly walks all over that question in Back to Bed by synthesizing a rather straightforward puzzle game with a world of Eschers, Dalí and Magritte. We haven't seen a video game like this before, and we like what we see.
Blind Monk
We are very excited to include Blind Monk in the final selection of games for the Indie Night. Especially because is a motion controlled no-graphics game. Those types of games have a very special place in our hearts. Blind Monk puts you in the shoes of a defender of a valuable treasure. Evil people try to use your loss of sight against you and sneak s up on you to steal the treasure. You will have to spin around on the floor, concentrate deeply and momentarily make a precise stab in order to win.
Flight of the Fireflies
Flight of the Fireflies have already been showcased at the AMAZE festival in Berlin and the Not Games Fest in Cologne and we are happy to bring it to Nordic Game Indie Night. One of our judges noted that it was encouraging to see how Flight of the Fireflies were branching out from the mainstream "indie" idea of what a game ought to be like and we tend to agree. We had multiple submissions of games that in one way or the other were emphasizing an "experience" rather than goal oriented ludic activity, but Flight of the Fireflies were the one game that touched us most.
Neon Zone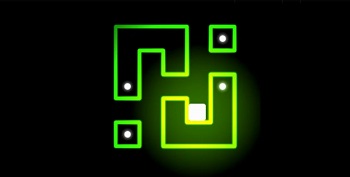 And now to something completely different: Neon Zone, is a slick mobile game. The mechanics are not groundbreaking, but they are done with so much love and care that really makes it stand out. We love the fact that the three different scoring metrics force you to employ radical different strategies on the same level. The same space seems completely different depending on how you are maximizing your score and you will twist your phone and your mind at the same time. Neon Zone has been nominated to a Best Nordic Mobile Game of the year at the Nordic Game Awards.
The Swapper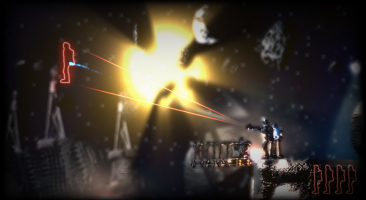 The beautiful tactile handcrafted world of The Swapper combined with the unique cloning mechanic of the game has won a good deal of critical acclaim and recognition at independent games festivals and competitions. Recently the team Facepalm Games announced to be the 6th game to receive funding from Indie Fund and we can't wait to play the game. The Swapper is clearly one of the most anticipated indie games from the Nordic region in development right now.
LAZA KNITEZ!!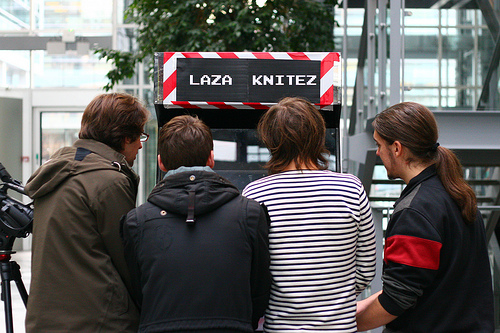 We had to include LAZA KNITEZ!! in the final selection of games. Not only are we suckers for local multiplayer games in general, but a local multiplayer game that utilize your yelling and screaming at each other as a factor for the level of craziness happening in game is an instant sell for us. Yes, the battle might not be as tight as last year's winner of the Indie Sensation award: Vikings on Trampolines, but craziness, randomness and mayhem is part of the game when Warriors from the technofuture joust on space stallions.