We're going to the Maldives – first days
Read about the background of this trip here.
The last couple of days we have been settling in. Getting to know the "island time" and meeting local people and Amani's family. All very nice people.
I got to play a game with the locals that they claim is the predecessor of the other games in the same variant. The game is called Ohlvalhu Gondi and is a type of Kalaha/Mancala and is played sea shells called cowrie. The cowrie used to be their currency, so playing this game would have an element of gambling involved. The cowrie is also depicted on their really beautiful paper money as a legacy of their history.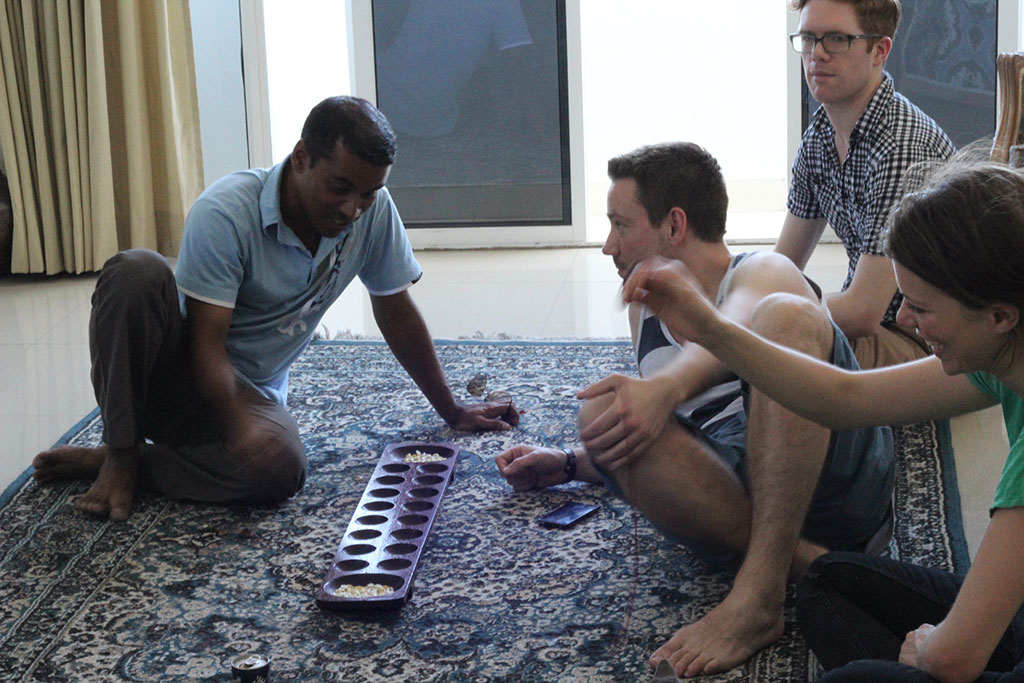 We have been walking around the city as well and experiencing and getting used to – but not really – the extremely warm weather. It is immediately apparent that this climate is not for very active games. Just going outside you feel like doing nothing but find shade. Which is a funny thing about culture. When you mention the sun in Denmark people have preconceived notions and associations. People in Denmark are, whenever there is a shiver of light, trying to be in the sun. It is obviously the complete opposite in maldives. And talking to people about the sun gives so different responses than it would for us in Denmark. They are almost weary of it. It is just something you have to think of when you are designing for another culture.
The heat and the beautiful water makes us want to swim in the sea. But we still wanted to play, so we are thinking about making a game that is played in or under water. We are thinking about waterproofing the move controllers as well. Then we'll at least be able to play the idiot's game or JS Joust in there.
The weather together with the really beautiful milieu I think are some of the reasons for the really laid back culture here. Malé has a really dense population. There is so much traffic, but it still doesn't feel stressful and everyone on the street is so mellow. This is why we talked about doing some crazy stuff on the street. Something that will catch peoples attention. also because getting into thinking and being physical in the form of folk and street games is foreign for the Maldivians (and people not used to it). Also there is a no alcohol policy in the country, and we know that alcohol can alleviate some of the reservations people can have against this.
So, we were thinking about a game with a banana person. More will follow.
[galleryview id=27]