The Collective at Roskilde Festival
This year we're going to Roskilde Festival to have fun and show some games.
We are going to show some of our games, while some of us are helping Invisible Playground with one of their more physical installation piece games; Giant Starfish Kraken, while some of us are helping out Die gute Fabrik of JS Joust fame with their games and installations (they have a game you play on trampolines!). We are looking forward to seeing the babycade being utilised for what it was intended and to show are physical games on it, together with some local multiplayer games. We are also showing our award winning "art game" Ervax to the festival audience. Going from high brow art exhibition to Roskilde Festival is going to be an interesting shift.
Besides our own games, we are also guest showcasing one of the Nordic Game Indie finalists' local multiplayer game; the ever so funny Stikbold, which will be playable on the babycade with flying whale and all!
Where are all these shenanigans, you ask? Well, look for Game City, we will be in, and around that area.

Babycade
The good ol' handy babycade will be at Roskilde! This is an arcade machine piece we created a while ago to be able to bring games out to places where you wouldn't necessarily be able to play arcade enabled games, which is perfect for Roskilde. On it will be: samurai gunn, superspace___, starwhal, laza knitez and go nuts among others.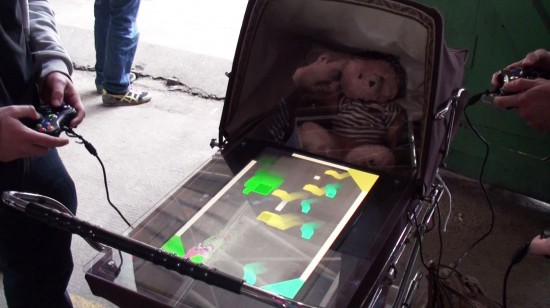 Magnetize Me
A cooperative dancing game meets Twister. Touch the right color and dance to the beat. The game will feature a team play mode for a more hectic festival playing experience.
Read more about Magnetize Me here.

Zumbie:Blind rage
Zumbie is in the middle of a revamp. We are re-developing it in a more sturdy festival friendly design. The original design required two internet enabled devices. Preferably one pc, and one Android Smartphone and was super lag-y. Now we are redoing it with move controllers and implemented in the Unity Game engine enabled by our own UniMove library.
Zumbie is a game about surviving the zombie apocalypse with the help of your friend(s). One player plays as the shooter, who is a blind and limping but luckily has an endless supply of shotgun shells, the other as the spotter. The shooter must hold the controller in the normal controller orientation (hotdog, not hamburger) should not be able to see the screen, and will then use the controller as a gun. The spotter must then give you directions and help you survive as long as possible.
Jelly Stomp
If it rains a lot, or if we find a fountain or a paddling pool, then we'll whip out  our newest addition to our repetoir of physical games. A game created for the Maldives project, that was also showcased publicly at the Venice Biennale.
Make sure your jelly fish is not stomped on, while stomping on other's jelly fish in this frantic, physical and silly water game for 2-4 players.
Stikbold
Stikbold! is a digital multiplayer game for up to six players.
Every evening there will be win-or-vanish tournaments
Stikbold! is based on the classic schoolyard activity – but with a twist. Stikbold! is a tribute to the 70s and 80s sports stars, with mullets, a little too tight sportswear and massive beard on the upper lip.
Read more about Stickbold here.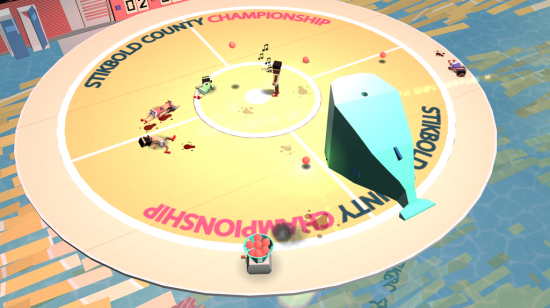 Ervax
ERVAX for 2 is an interactive art piece that is part game and part compositional tool.