ALL THE RAVE: NORDIC GAME JAM 2015 PRE-PARTY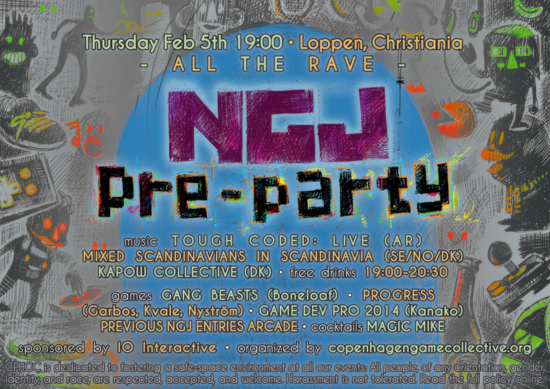 So Nordic Game Jam 2015 is coming up this weekend (assuming you aren't reading this from the future. If you are, I hope you had a blast).
Anyway, as usual, Copenhagen Game Collective will be hosting the Pre-Party the night before, to get all you jammers in the mood for 48 hours of sitting in one place staring at a monitor.
This time the party will be held at Loppen in Christania and is sponsored by the awesome IO Interactive.
So see you all there on Thursday 5th at 19:00 to dance to awesome music and play some great games (Free Drinks courtusy of IO until 20:30)!
Copenhagen Game Collective presents:
★★ ALL THE RAVE: Nordic Game 2015 Pre Party ★★
● Loppen, Christiania (Bådmandsstræde 43, 5 minutes from Christianshavn Metro station)
● Thursday 5 February, 19:00 to 02:00.
● Entry with NGJ ticket (bring it on your pocket computer)
● Game Cocktails by Magic Mike → @[www.gamecocktails.dk]
~~ Free beers between 19:00 – 20:30! ~~
♥ Sponsored by IO Interactive (@[www.ioi.dk]). Thanks, IO! ♥

_______________________________________________
♬ MUSIC
KAPOW COLLECTIVE (DK)
A queerfeminist DJ collective armed with records bags and attitude.
→ @[www.facebook.com/pages/Kapow-Collective/148091738690877]
MIXED SCANDINAVIANS IN SCANDINAVIA (SE/NO/DK)
A Nordic supergroup of video game composers turned party band. Featuring:
• Snorkelitzor (SE) → @[www.snorkeldata.com]
• brainchai (NO) → @[www.strotch.net]
• RIV (SE) → @[www.soundcloud.com/rivhimself]
• Visuals by VJ sidek1ck (DK)
TOUGH CODED: LIVE (AR)
A live interactive video game performance, shoot 'em up griefing and fast dubstep. It's everybody against Little Nando, so step right up.
→ @[www.toughcoded.littlenando.com]
_______________________________________________
☻ ARCADE
Gang Beasts (Boneloaf)
→ @[www.gangbeasts.com]
Progress (Tim Garbos, Martin Kvale and Joel Nystöm)
→ @[www.progressto100.com]
Game Dev Pro 2014 (Kanako)
→ @[www.kanako.dk]
Previous NGJ Entries Arcade! (TBA)
_______________________________________________
Copenhagen Game Collective is dedicated to fostering a safe-space environment at all our events: this means creating a space where all people, of any orientation, gender identity, and race, are respected, accepted and welcome. Harassment is not tolerated.
Attendance at Copenhagen Game Collective events implies that the participants agree to, and will abide our Safer Space Policy → @[www.copenhagengamecollective.org/2014/12/13/safer-space-policy/]