NORDIC GAME INDIE NIGHT 2015 OPEN CALL FOR GAMES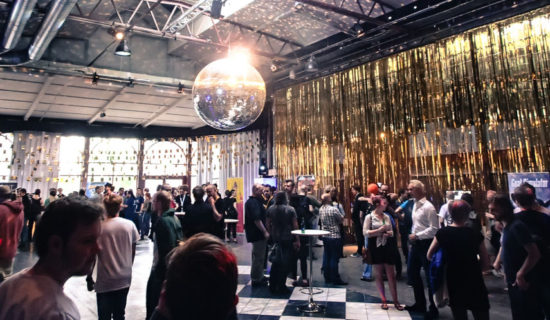 Photograph by Gemma Thomson
We are pleased to announce the Nordic Game Indie Sensation Award 2015, the 6th annual Nordic Indie Night Showcase. In collaboration with the Nordic Game Conference we will showcase a number of talented and interesting indie developers from the Nordic countries.
If you have a game that you feel deserves some more recognition, we invite you to submit your game to this years Nordic Game Indie Night. Last year's showcase featured some awesome games, and we look forward to seeing your game this year.
If your team is based in the Nordic region: Denmark, Finland, Faroe Islands, Greenland, Iceland, Norway, Sweden, or the Åland Islands you can submit your game here. You don't have to be ethnically Nordic and having part of your team based in a Nordic country is enough to qualify.
This year, for the first time we will be judging board games as well as digital games. Board games will be judged by a separate dedicated jury. If you have a hybrid game please choose the category you would like to be judged in.
We will provide travel and accommodation for one member of each selected games development team. This will be so you can receive your award and showcase your game.
If you are nominated it is important that at least one member of your team is able to attend the Nordic Game event from 20th – 22nd May in Malmö, Sweden. Please refrain from submitting an application if you know you will not be able to attend the event.
Digital Games
A jury of game developers, theorists, past winners and members of the Copenhagen Game Collective will look through all the submissions to narrow them down to a shortlist of the projects that the jury finds to be most interesting. After that CphGC will curate the final nominees to be showcased at Nordic game. These games will then be in the running for receiving the Nordic Game Indie Sensation Award 2015.
We are primarily looking for new projects but games that have already been released are OK, as long as they came out within the last year or so. Prototypes, work-in-progress, unfinished and unreleased games are also welcome to submit, and will not be treated differently from finished or released games.
The games that are selected will not be intended to be a list of the "Best Nordic Indie Games" but will instead celebrate the diversity of interesting projects that are being developed in the Nordic region.
Board Games
A team of Nordic curators, led by Thomas Vigild and Astrid Mie Refstrup, will play, evaluate and nominate 6 prototypes. These will be separate from the digital game curators and will have expertise centered around the board game market
The selected prototypes will be put in a room at Slagthuset and available for playtesting from Wednesday morning. The game designers are responsible for manning and presenting their games. At the end of the evening at Nordic Indie Night everyone can vote for their favorite Nordic Indie Nordic Board Game on display. The board game with the highest number of votes wins the Nordic Board Game Indie Sensation award during the Award Ceremony on Wednesday evening.
Participation is free. The board game has to be unpublished in order to participate in the board game section of NBGIN.
The designers behind the selected prototypes nominated will all receive one full pass to Nordic Game Conference per board game.
We do not accept print & play board games. If your game is print & play, the curators still need the physical prototype.
It´s OK to change rules and design of a board game after submission – as long as you inform the curators.
The board game does not have to be a finished and superbly polished visual design, but it should be able to communicate the basic rules and mechanics. Only prototypes developed in the Nordic region will be accepted. The developer has to register and send the physical prototype of the board game to the curators for evaluation. Send the prototypes to the following address:
Astrid Mie Refstrup
Tøndebindervej 2, 2 th
2400 Copenhagen NW
Denmark
Unfortunately we do not reimburse or cover postal expenses or return the submitted prototypes. Designers can get their physical prototypes back if they personally collect them in Copenhagen. Just contact the curator-team.
Speed Pitch for Digital Games
As part of the "Investing in Games" track in the main conference program of Nordic Game 2015, a Speed Pitch event is being organised on 20th May. This gives Nordic developers a unique chance to pitch their new game projects to a selected group of global investors and publishers. Digital games submitted to Nordic Game Indie Night this year have the opportunity to also apply for this through the same submission form. This will not be judged by the Copenhagen Game Collective, instead your submission will be reviewed by the conference organisers, and If selected, you will get a free entrance pass for the conference as well as support on how to prepare for the Speed Pitch event.
Submission
Deadline for submissions is 23:59 on the 16th March 1st April.
Please submit your games here.   The open call is closed.
More detailed program of the night will be announced later. (For further updates, watch this blog or follow us on Twitter).
Any other questions? Send us an email: ngin@cphgc.org