We have cake: A summer visit at Vienna'a zamSpielen Café
Vienna is Europe's capital of elaborate cake and intricate coffee (to order it correctly, you need a tutorial). So it's only a matter of time until game cafés become a thing there. Thanks to the zamSpielen collective (zamSpielen = Austrian "playing together"), this is happening as we speak. Here are some early summer impressions.
As I'm approaching Schaustelle, the artsy coworking space deep inside Vienna's concrete jungle, and venue of zamSpielen, I'm greeted by a curious view: A blue-haired person sits on a folding chair in the middle of the street. Bare feet planted firmly on the cement ground, hands manipulating something with a game controller. The gaze decidedly focused on something inside the Schaustelle window. Getting closer to this peculiar dance, the shop window reveals itself to be a gaming screen. A game of Gnog is running on a small screen inside an antique treasure chest. What is going on? The meter-high chalkboard leaning against the facade tries to explain it all in carefully taped all-caps: CAKE & GAMES. There is a small brutalised soft drink advertisement above it: "Almdüdlér".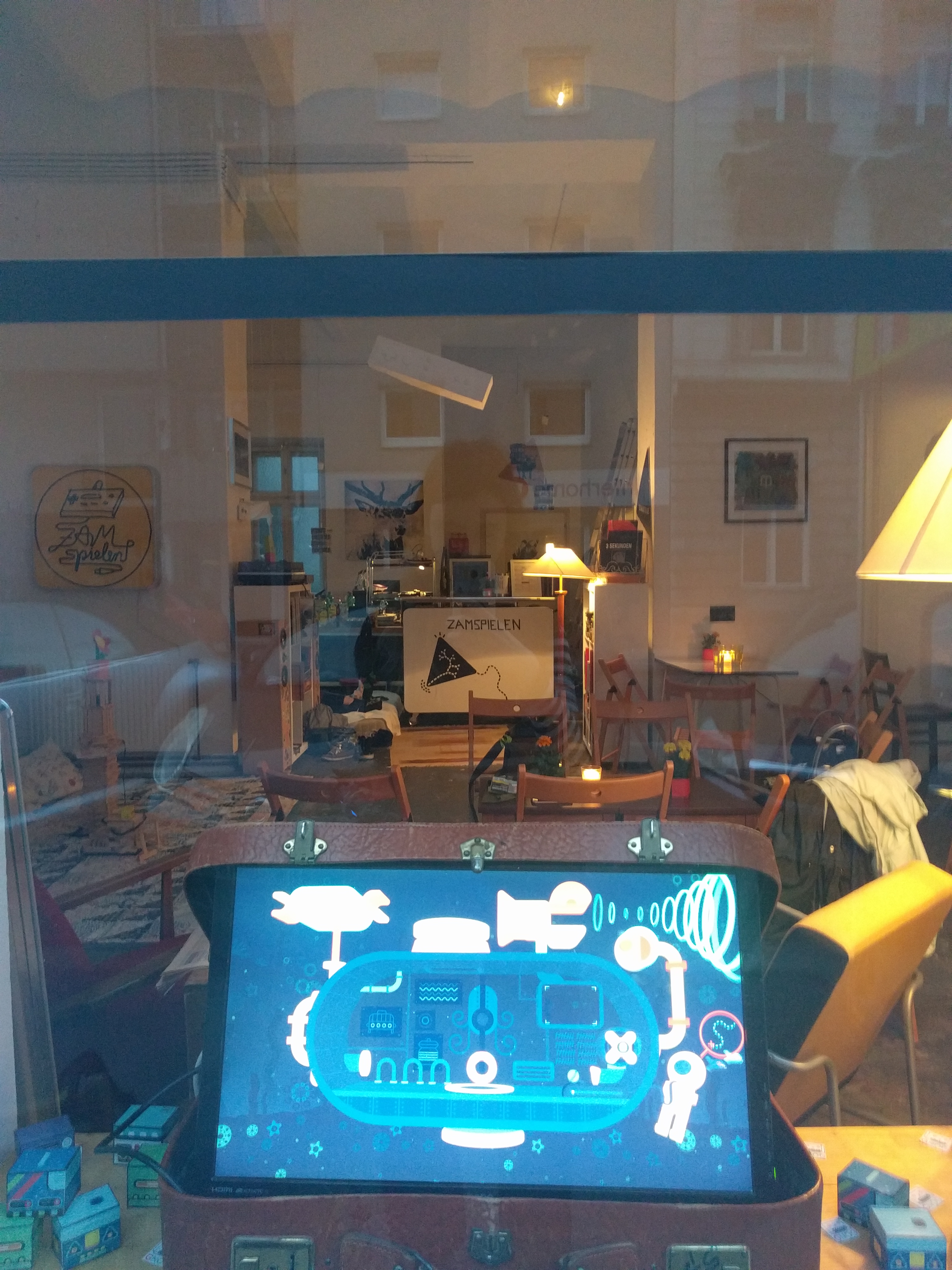 I turn towards the open door, and stop in front of a cyborg body in socks struggling with cables. He's bouncing up and down on a wooly quilted blanket. A session of Superhot VR is in progress. Above it, an origami surveillance camera. Next to it, some vintage furniture shelves containing books, vinyls, N64 cartridges, and a small paper craft pot flower.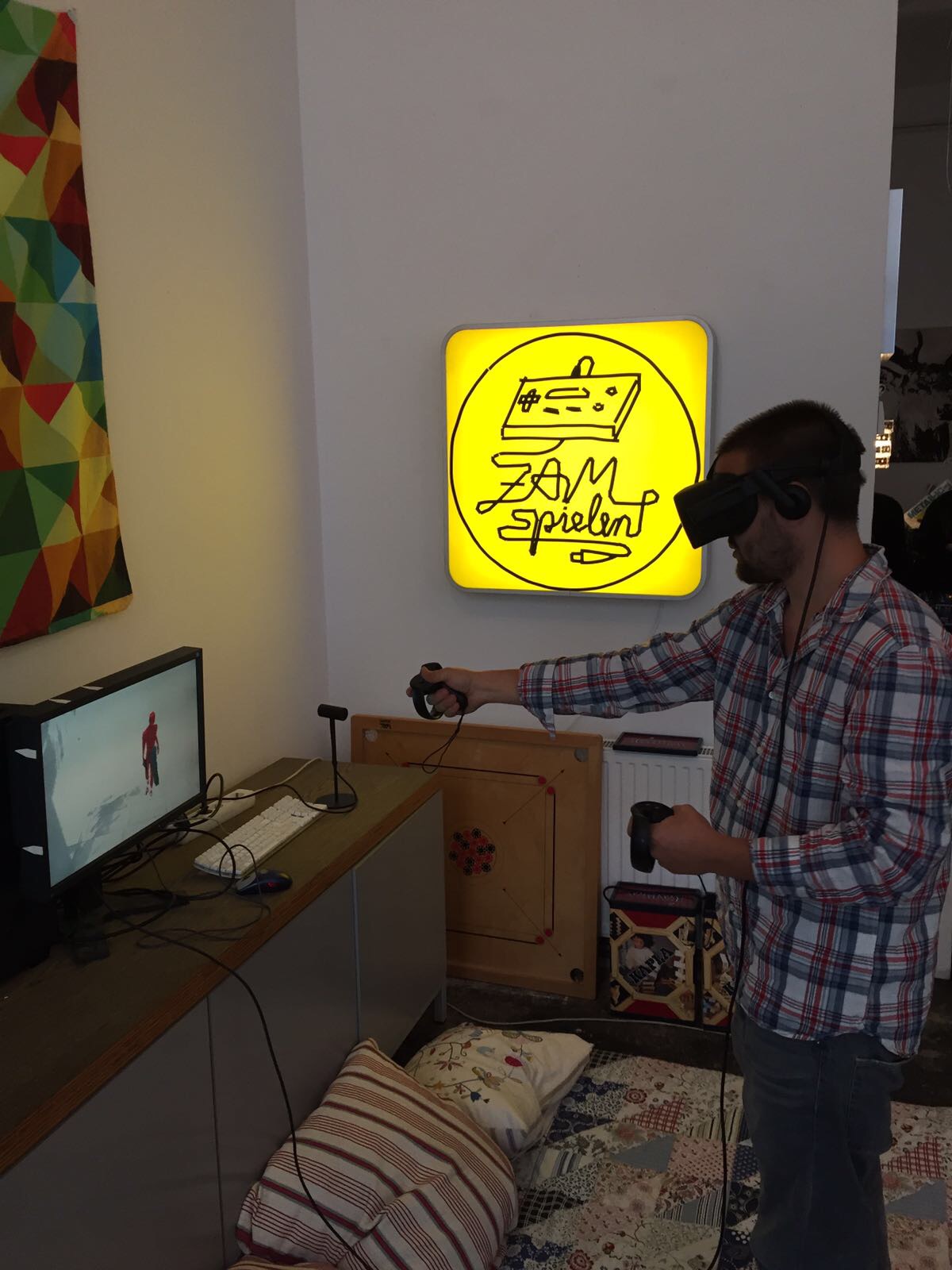 Passing the cosy VR carpet, I finally reach the bar run by the zamSpielen crew Josef Who and Matthias Menrath. It is late in the day, so I am offered a gin and tonic complete with a pinch of pepper. Have I tried the cake assortment yet? Sachertorte and mini pancakes are on the menu. All home-made, and available for a pay-what-you-want donation. While I ponder, another guest hurries past me. His supply of home-made Vanilla crescent cookies has arrived.
Next to us is a queen-sized mattress with two players languidly stretched out amidst heaps of pillows and blankets. They are in the middle of a challenging part of Joggernauts, hissing and swearing at the characters projected on the linen cloth draped above their heads. "What's the story behind the paper cutout arrangement hanging from the ceiling?", I ask. "Oh, an artist who used to work here made it. She wanted to throw it out! So we decided it will live on the ceiling".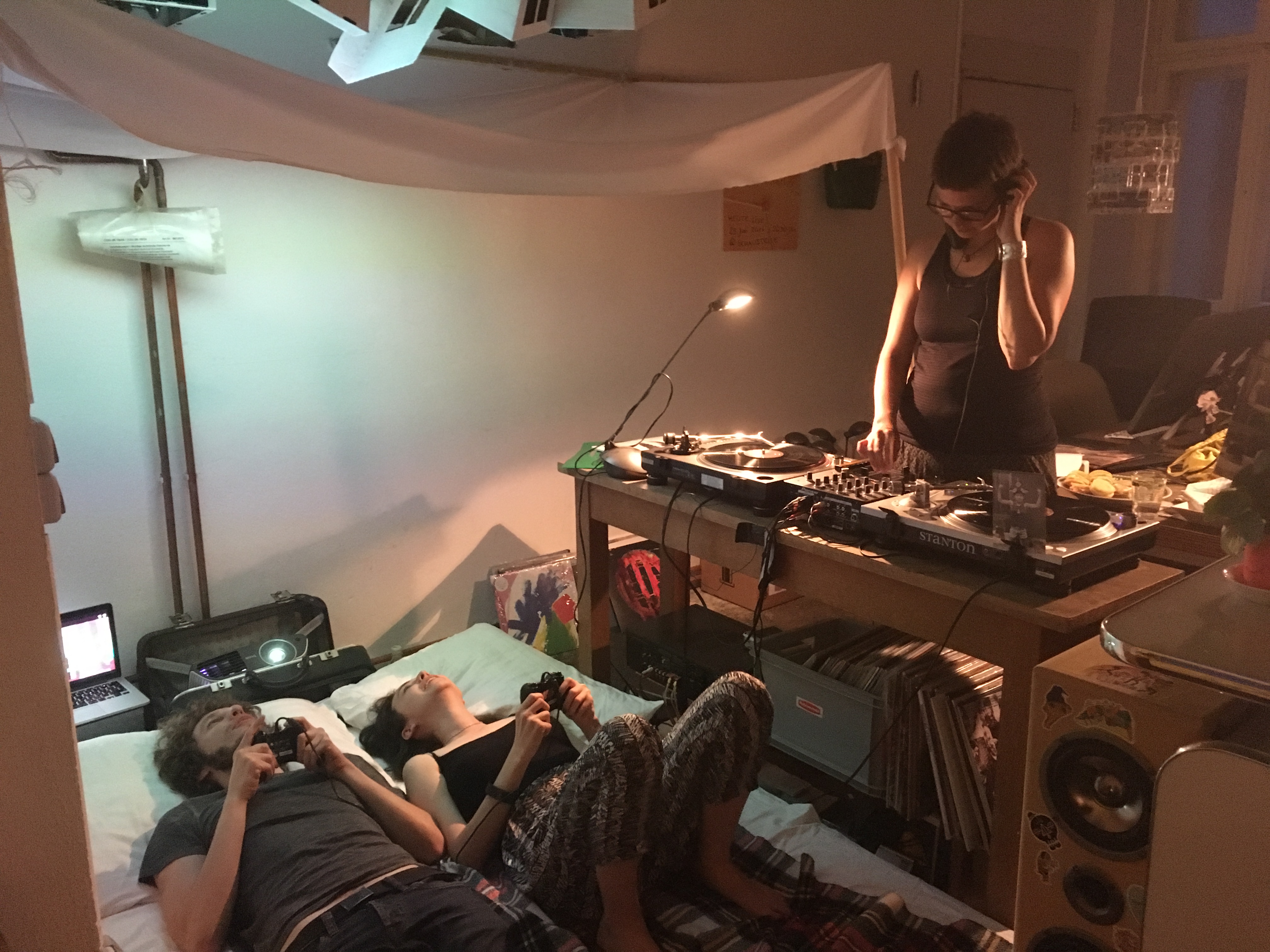 What is the point of this eclectic assortment of cake, games, and decoration? As a weekly communal hangout for anything from local indie devs to passers-by, the zamSpielen Café is something like a 21st century interpretation of Vienna's "Kaffeehauskultur". Kaffeehauskultur, that's tweed-wearing intellectuals chilling out on art nouveau sofas and sipping hot substances from porcelain cups while chain-smoking small cigars and composing next-level philosophical treatises, novels, or symphonies. That's a bit of a cliché, of course, but there's something to be said about the slow-burning nature of sitting together and celebrating "Gemütlichkeit", defying any immediate purpose or deadline.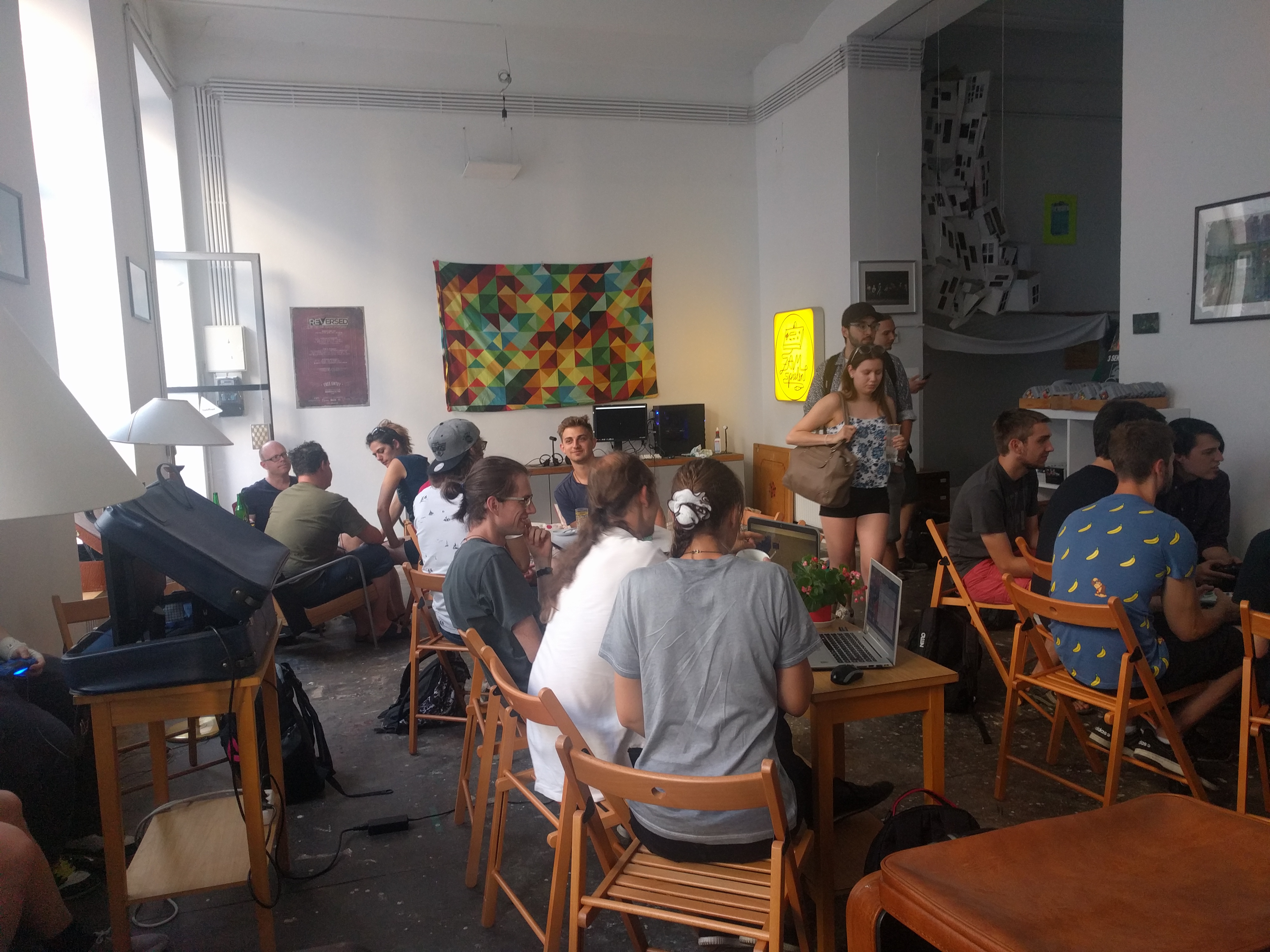 Slowing down, sitting together, and having a snack, a chat, and perhaps a lil' game is precisely what many in the crunch-and-burn reality of game development can't afford. In these times, mobilising the "golden age" of Viennese slacking is a strike of genius. It's consoles, conversations, and coffee in one. Triple-c culture, if you will.Yet, evoking the character of traditional Kaffeehauscharme, as Josef calls it, takes more than a friendly invitation on a chalkboard. It means putting community first, and relegating games to the fringes through designerly architectural moves.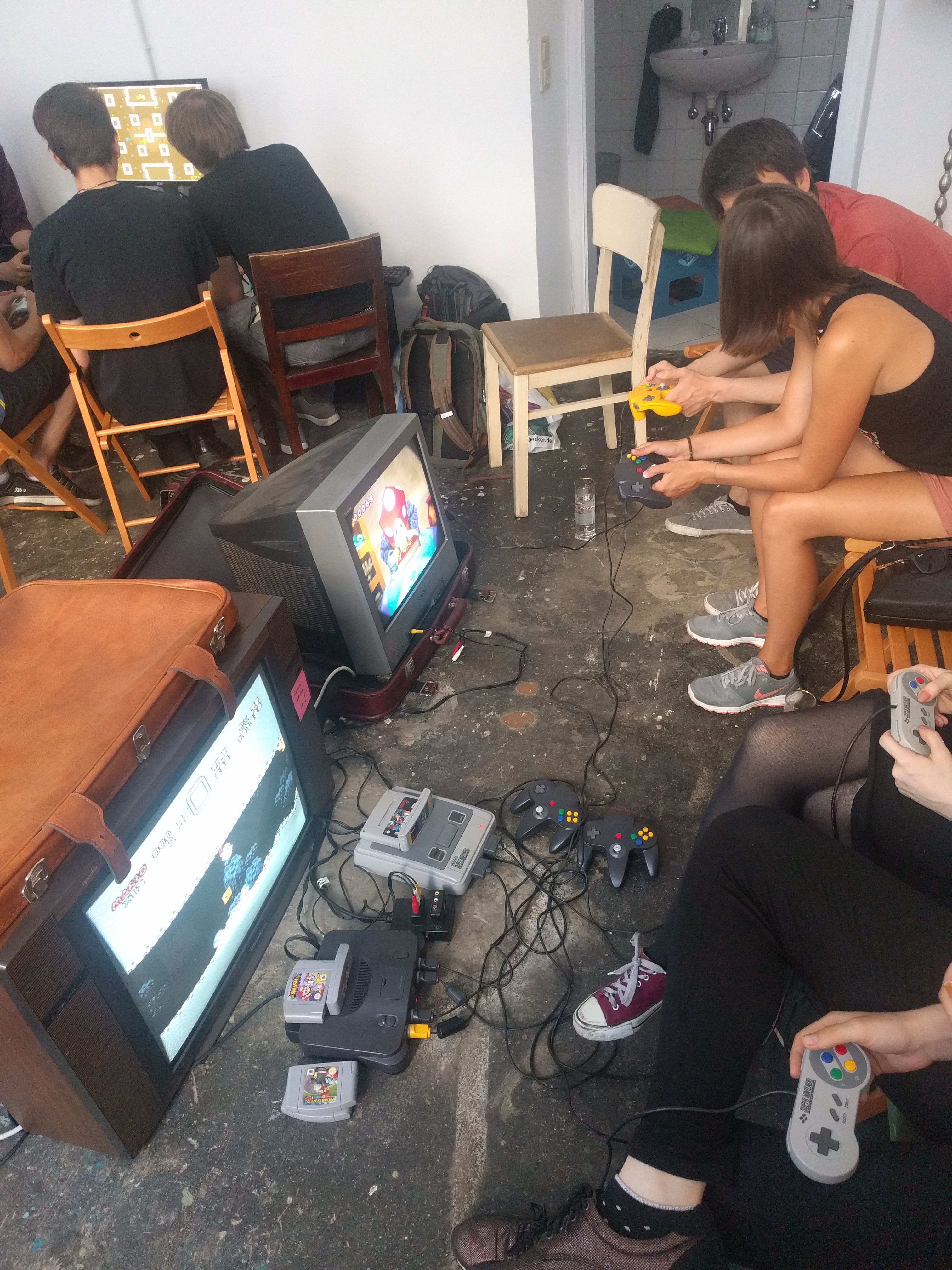 When it comes to the spatial arrangement of Schaustelle, no bulgy arcade machines are blocking the way. This is not about them. The centre of the room is defined by tables and chairs, and hence by those using them. Hardware is strictly confined to the sides, with consoles and TV sets sitting on the floor. Seated on long wooden benches, players mostly look down at them, and up towards each other. The space is optimised for humans, rather than machines.
This also explains the mystery of the trunk-covered game consoles. Why insult the visitors' eyes with messy cables and excessive hardware if you can hide them in a pretty box? In curating the games, much weight is put on the question whether they would attract a variety of people. "We try to select games such that everyone can potentially find themselves in them", Josef says. This does not necessarily mean to only host indie or experimental games, but to provide a large mix of nostalgic arcade, AAA and unreleased indie games. A priority in all of this is the prevention of excess visual and aural noise. Maintaining a calm Kaffeehaus character means keeping visual and auditive stimuli at bay. According to Josef, "What should define the space is our own music, conversation and the light clatter of cutlery".
In my complicated mind, it's possibly the mix of thought-through spatial design, VR blanket spectacles, and the lack of overwhelming noise which makes zamSpielen gatherings so charming. Maybe. But when I ask Josef, his reasoning is more to the point:
"We have cake!"