Nordic Game Conference 2011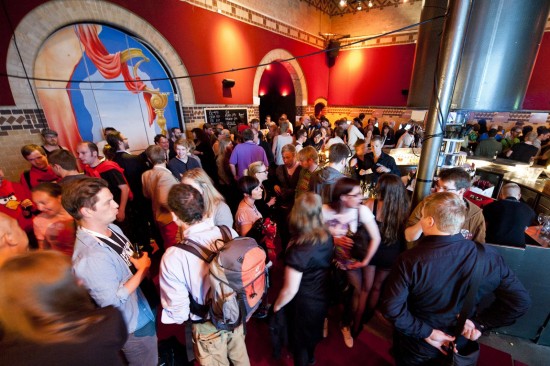 Man, Nordic Game Conference 2011 was a blast! We had our hands full this year. In addition to throwing our 2nd annual Nordic Game Indie Night (NGIN) party and exhibition, we also curated the brand new Indie Track this year.
Indie Night was packed this year. The lecture hall was so crowded that we couldn't even fit everyone! I suppose we'll have to get a bigger room next year. Growing pains aside, it was great to see so much interest in the regional indie scene. After all, that's really the whole point of the showcase – to call attention to all the rad things that indies are doing here in the Nordic countries.
Here are some photos of Indie Night, courtesy our friend Zo – ii:
The D-Pad guys – featured at NGIN for the 2nd year in the row – won the "Nordic Game Indie Sensation" award for their addictive multiplayer brawler, Vikings On Trampolines. The award was chosen by the conference attendees, by popular vote. Given how much we've been playing the game at the office, we certainly feel like the honor is well-deserved!
The best part of the conference was hanging out with so many new and old friends! In addition to all our Nordic compatriots who were in attendance, we had a number of visitors from farther abroad, including Ricky Haggett and Marie Foulston from the UK, Zo – ii and Richard Boeser from Holland, and Brandon Boyer from the US. Brandon is too modest to admit this, but he gave a deeply inspiring keynote (loosely based on his IndieCade 2010 talk). In all seriousness, it was one of the best game talks I've ever had the pleasure of attending.
We were also very pleased with the other four Indie Track talks. I was particularly blown away by the talk from Anders and Erik, the guys behind the IGF-nominated adventure game The Dream Machine. I'll try to blog more about it in the future, but meanwhile I should mention that Anders will be coming to Copenhagen this week to give a similar talk at ITU. Details here.
Here are some more conference photos from Zo – ii, including some fun photos of us running an impromptu session of Johann Sebastian Joust! at the conference party:
After the conference, a big group of us crossed the bridge  and spent some quality downtime together here in Copenhagen. All in all, a very memorable week! Thanks again to the Nordic Game Conference organizers, and to all our friends and colleagues who made it such a fun time. Here's hoping we all do it again next year!