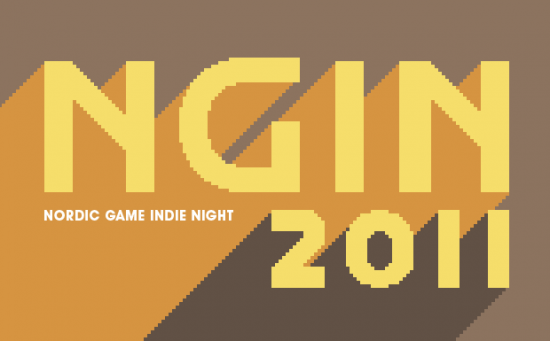 Our jury has been busy looking at and playing Nordic indie games, and now we're finally ready to announce our final lineup for this year's Nordic Game Indie Night showcase. Without further ado, here are the finalists:
We received about 65 submissions, so competition was tough! There are so many games that we're eager to share that this year we decided to expand this showcase to eight games (last year we showed six games). Additionally, one of these eight games will be selected for this year's "Indie Sensation" award at the Nordic Game Award ceremony on May 11. Exciting!
Four of the games have not yet been released, so there will be lots to see and play this year! Nordic Indie Game Night 2011, a part of the Nordic Game Conference, takes place Tuesday evening, May 10, at Slagthuset in Malmö, Sweden. The showcase/party is free and open to the public. More details very soon, watch this blog and/or our Twitter feed for updates.
Our jury consisted of nine members of the Copenhagen Game Collective, and was chaired by Lau Korsgaard, Lawrence Johnson, and Douglas Wilson. Below, we've provided a brief statement about our selection process and the eight game selections.
More than anything, our jury was looking for games that had a certain indie "soul" to them. This "soul" is difficult to articulate. It lies somewhere in between the elements of gameplay, narrative, graphics, and sound, and is ultimately a product of how all these elements are combined into a unified whole. In some cases, we chose games that became a big hit around the office – games that we found ourselves returning to again and again.  In other cases, we chose more unpolished prototypes that demonstrated a clear and promising vision. Some of the finalist games are quite small, while others are more ambitious in scope. More than anything, the games that ended up catching our attention were the ones that have a certain edge to them – a unique and personal style. We hope you'll agree!
1916 – Der unbekannte Krieg, by Kriegsgraben und Stormvogel [Denmark]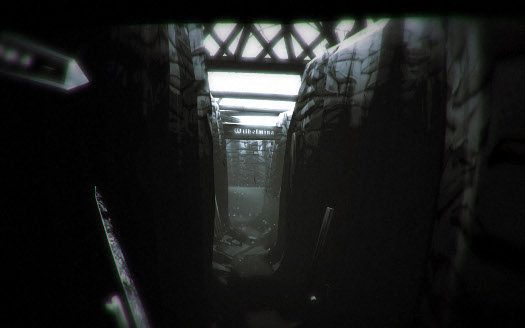 The premise here is fantastic: you're a German soldier in WW1, but – oh shit – dinosaurs have invaded the trenches, and now you have to escape. This easily could have been cheesy, but somehow the development team managed to strike a balance between sorrow, fear, and hilarity. It's delightfully ambiguous as to whether you should laugh at the game or take its premise seriously. Our jury was struck by the beautiful black-and-white world (again, as campy as it is creepy) and the inversion of the typical "shoot-first" FPS gameplay.
Cobalt, by Oxeye Game Studio [Sweden]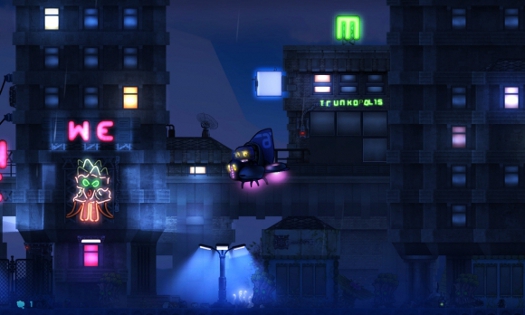 Cobalt is an action-packed 2D shooter with a strong sense of style and an impressively detailed world. It was immediately clear to us why the game was nominated for "Excellent in Audio" at IGF 2011. We're especially eager for the multiplayer dueling mode that the team is developing.
Jesus vs Dinosaurs, by Martin Jonasson and Petri Purho [Sweden & Finland]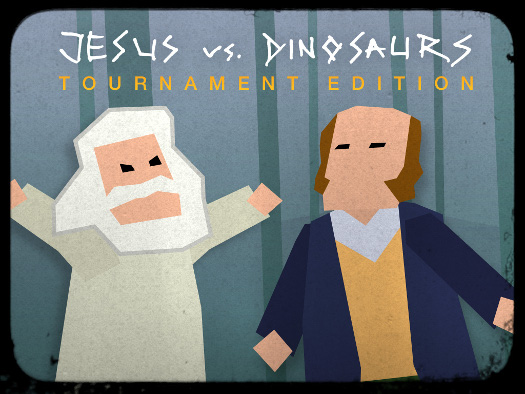 Yup, another game about dinosaurs, also with a hilarious premise. Jesus vs Dinosaurs features frenetic, Tetris-inspired, head-to-head gameplay. Our jury particularly enjoyed the creative aspect of building the little cars, as well as the game's audiovisual aesthetic. We've curated this game once before at our Killscreen vs Scandinavia exhibitionat GDC 2011, and so we've experienced firsthand how well the game works in a party setting. We're excited to have the opportunity to show it again!
Mobiloid, by Monty Games [Denmark]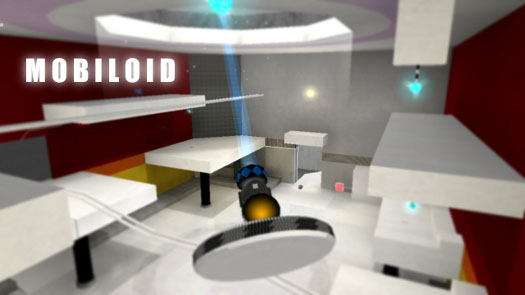 Mobiloid, the brainchild of Monty Melby, is a physics-based 3D puzzle adventure set in a mysterious robot factory. Over the course of the game, the player collects special modules and mechanical parts that are used to procedurally construct a robot avatar. Think Bob Came In Pieces (which we showcased last year), but played in an over-the-shoulder perspective, with an off-kilter industrial aesthetic reminiscent of games like Portal and GoldenEye 007. Mobiloid was perhaps our most controversial and intriguing submission. The demo we tried isn't fully polished, and our jury expressed some concerns about the pacing and the level design. Nevertheless, we thought that the demo shows tremendous promise. In particular, we were excited by the game's take on procedural robot construction. We felt that Mobiloid, of all the submissions we received, presents a wonderfully peculiar and unique creative vision that deserves public attention.
Nimbus, by Noumenon Games [Sweden]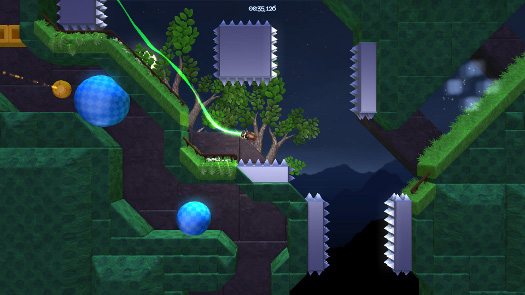 Nimbus is a 2D gravity-based puzzle-racer game. We're surprised that we had never heard about the game before, given that it's already available on Steam. Our jury was struck by the huge amount of content and the diversity of gameplay elements – doubly impressive since the game was made by such a small team. We should also mention that we liked the design decision to hide a giant spinning gold coin in each level – a nice throwback to the Donkey Kong Country games of yore.
Paul & Percy, by Mads Peter Vedsten Larsen, Klaus Kabel Kritensen, and Magnus Poppel [Denmark]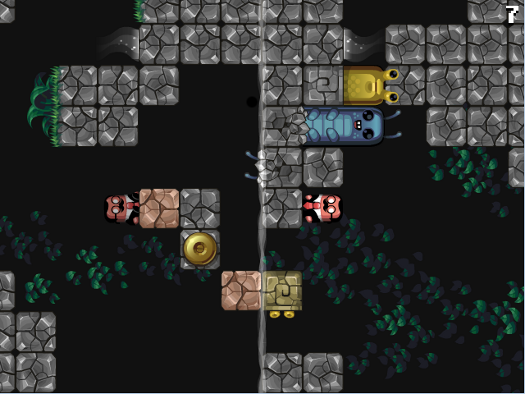 The student team behind the hit Flash game KILL ME return with another well-designed, polished puzzle game. Paul & Percy was championed by several enthusiastic supporters in our jury, who touted the game's charming sense of style and cleverly designed puzzles. With an impressive amount of content and varying gameplay elements, it's the kind of game that made us say: "just one more level."
Spirits, by Spaces of Play [Sweden]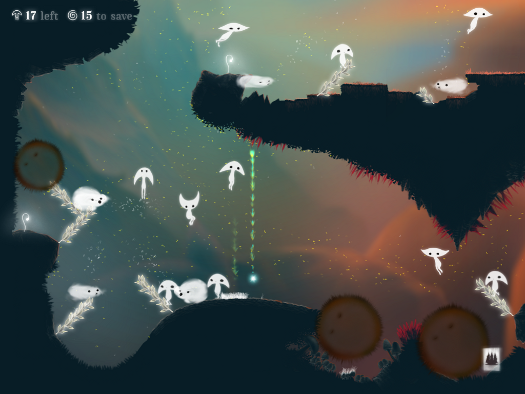 Spirits is a beautiful iOS action-puzzle game that makes smart use of multi-touch input. Several of our jury members were immediately struck by the Miyazaki-like visuals when we first tried the game at IndieCade 2010. We also enjoyed the old-school gameplay, which pays a nice homage to the Lemmings games of old while still introducing its own unique twists.
Vikings on Trampolines, by D-Pad Studio [Norway]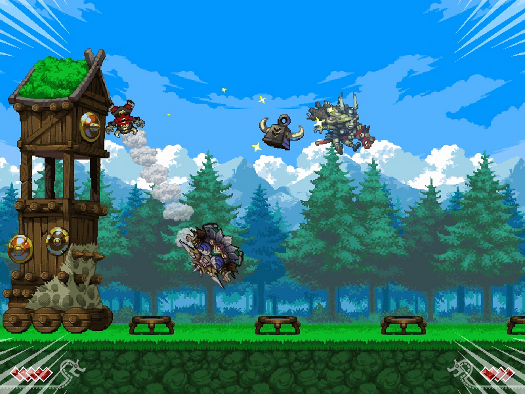 The name says it all: vikings on trampolines! Go head-to-head in a simple but highly addictive multi-player duel. The game quickly became a breakaway hit at the office, and we found ourselves getting quite competitive in our play sessions over the last few weeks. Vikings on Trampolines marks the second appearance of D-Pad Studio at Nordic Game Indie Night – last year they showcased their old-school platformer, Owlboy.