Nordic Game Indie Night 2012 – Call for Submissions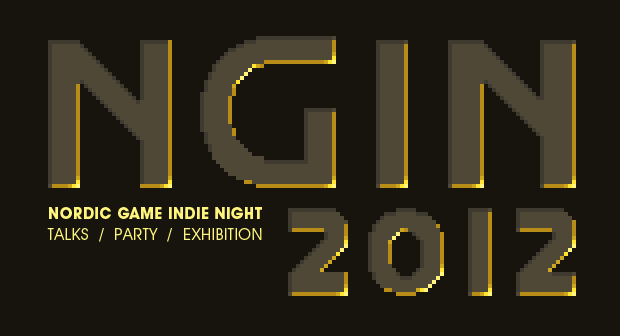 Nordic Game Conference, in collaboration with the Copenhagen Game Collective, is pleased to announce the 3rd annual Nordic Game Indie Night showcase. The purpose of the showcase is to celebrate talented indie developers from around the Nordic region.
Last year's showcase featured a mix of well-known Nordic Indies and upcoming underground hits. The audience selected winner of the event and winner of the Nordic Indie Sensation Award, Vikings on Trampolines, by Norwegian, D-Pad Studios is announced to be their next game in development after finishing their highly anticipated Owlboy.
The showcase will be curated by the Copenhagen Game Collective with help from an extended jury of previous finalists and Nordic indie developers.
Are you an indie developer based in the Nordic region? Are you working on a game that's innovative, special, or noteworthy in some way? Or maybe it's just really fun? We want to see it!
To submit your game, email the Copenhagen Game Collective (submit@cphgc.org) with the following info:
Title and description of the game
Links to screenshots and/or video
Background about you or your team, including where you're based
The submission deadline is Monday, March 12. Monday, March 19th
We'll confirm by email if we've received your submission. We may also follow up to ask you for a playable demo.
Then, we'll send out notifications by mid April.
The Nordic Game Indie Night kicks off the Nordic Game Conference 2012 May 23, in Malmö, Sweden. The night will feature live music and experimental micro talks by International and Nordic independent game developers. The event is free and open to the public and the audience will choose the 2012 "Nordic Indie Sensation" award from the invited games.
Throughout the conference, the invited games will then be exhibited on the conference showfloor for all the conference attendees to try.
Invited developers will receive free travel and entry (for one person) to the 2012 Nordic Game Conference, as well as accommodation in Malmö.
Is my game eligible for submission?
Is the game released within the last year or still in development?
Do the developers have some kind of relationship to the Nordic region: Denmark, Finland, Faeroe Islands, Greenland, Iceland, Norway, Sweden, or the Åland Islands? You (or some of you) might be living here, being born here or just passing through.
If you can answer yes to those two questions you can probably submit your game. Email us if you are in doubt.

What type of games are you looking for?
Last year we explained our selection of the games with these words:
Our jury was looking for games that had a certain indie "soul" to them. This "soul" is difficult to articulate. It lies somewhere in between the elements of gameplay, narrative, graphics, and sound, and is ultimately a product of how all these elements are combined into a unified whole. In some cases, we chose games that became a big hit around the office – games that we found ourselves returning to again and again.  In other cases, we chose more unpolished prototypes that demonstrated a clear and promising vision. Some of the finalist games are quite small, while others are more ambitious in scope. More than anything, the games that ended up catching our attention were the ones that have a certain edge to them – a unique and personal style.
Take a look at the blogpost announcing the games of 2011 and you will get a good idea of our selection criteria.
What does it cost me to submit?
It is free to submit your game and we will not steal your IP, we will keep all your submissions confidential, this is not a scam.