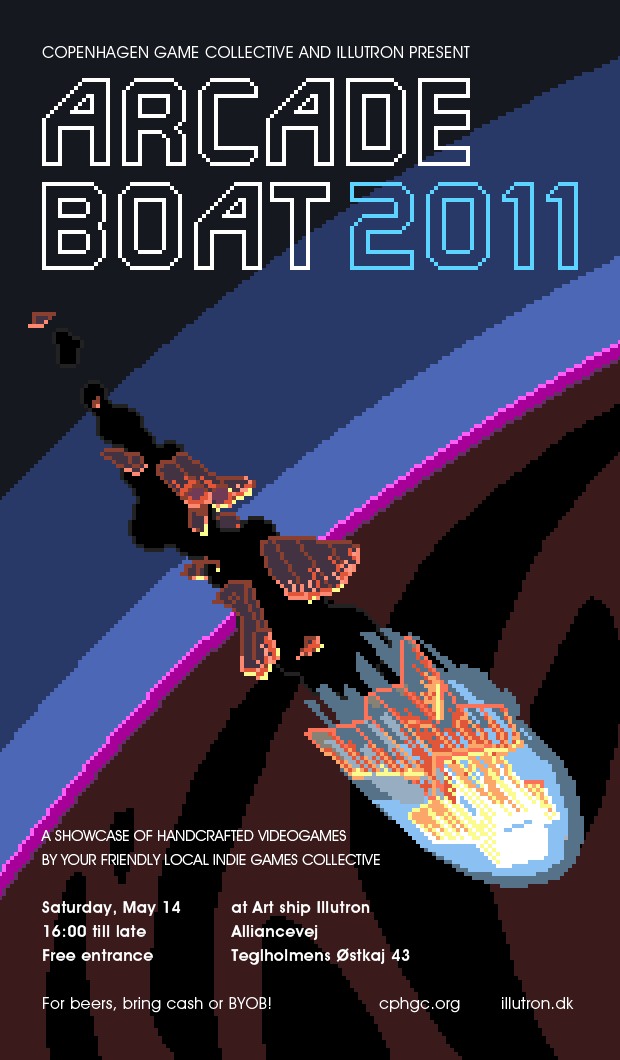 Together with Illutron (formerly known as Half Machine), we're throwing a Spring party!
What: Merriment and local hand-crafted indie games
Who: Us, the Copenhagen Game Collective!
Where: Illutron, Alliancevej, Teglholmens Østkaj 43, Copenhagen (map here)
When: Saturday, May 14, 4pm till late
Why? Because the only thing better than playing videogames is playing them on a BOAT!
Facebook event page here.
Over the last year, we've had the opportunity to showcase our games all around Europe and North America. Now, we'd like to throw an exhibition here at home, to party with our home crowd and to show Copenhagen what we've been working on.
We're teaming up with Illutron, a "collaborative interactive art studio" based on a big ol' barge in the Copenhagen South Harbor at Teglholmen. Formerly known as "Half Machine," Illutron throws some of the best exhibitions and parties in Copenhagen. We're very excited to join forces!
Don't worry, the ship is anchored by shore, so you're free to come and go whenever you like. Yes, it's all the way down in Sydhavn, but it will certainly be worth the bike/train ride. Get directions here.
We'll be showing B.U.T.T.O.N., Where Is My Heart, Johann Sebastian Joust!, Monkey See Monkey Mime, and more. As far as I'm aware, this will be the very first public demo of the soon-to-be-finished Where Is My Heart build. Awesome!
And who knows, we might even bust out some crazy folk games!
Make sure to bring cash if you want to buy beer. Or feel free to bring your own booze. Weather permitting, we may also set up some grills, so feel free to bring your own grillables/dinner too.
And we promise not to throw you into the water (sorry Lau…)