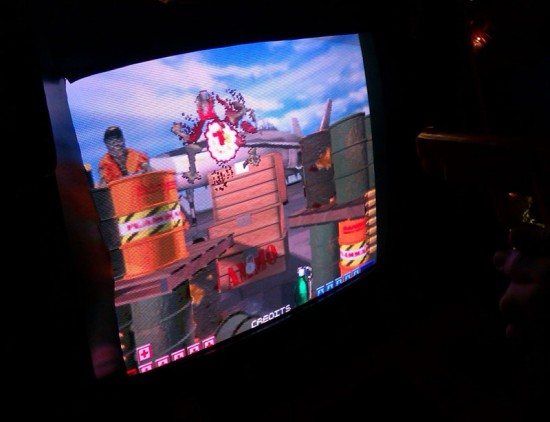 Last week some of us were at a couple of events that gave us the feeling that Copenhagen is a cool and thriving city in regard to indie games and interactive installations.  It also gave us renewed energy and motivation to create our own events to further expand the game culture and to have some interesting and different parties.
The first event we went to, that wasn't a Copenhagen event per se, was the game lecture held by our friend Kunal Gupta from loud objects and Babycastles. His lecture was centered around Babycastles in New York and how it has been opening new cultural territory for independent video games by inserting them aggressively into new spaces.
The day after, a new studio in Copenhagen called Science friction had their opening party. Here's an excerpt from their event poster – you can see why it piqued our interest:
on Friday, February 17th the world of art, design and technology will undergo a near complete reconfiguration. Copenhagen's newest studio, workshop and event space just beyond the city's northern gate in Nørrebro will open to the public. […] we begin busily exploring our own special kind of electronic, analog and digital tangents. And doing our part to propel humankind further towards the frontiers of all knowledge.
We talked to them about the possibility to set up some installations or games on their premises, which is a good possibility to have. Much of the work done by us and the people we're fans of needs to be exhibited to be appreciated, so having a place where this is possible is valuable.
At that same event Kunal played his loud objects music, which is some experimental, glitchy circuit bending and soldering music performance peace. Check out their page, it's quite special.
Later that night we went to the opening party for a new arcade for retro games on the hip street of Jægersborggade (yes the street has it's own website).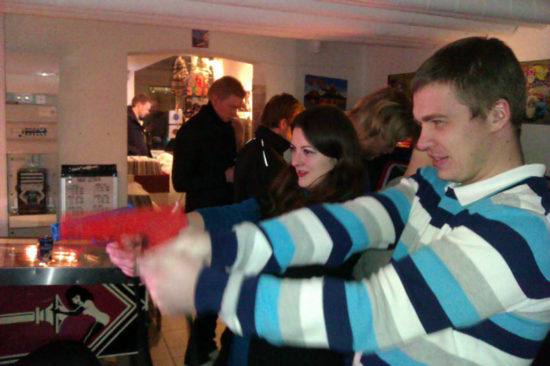 That was a pretty interesting party. It was nice to see 'normal people' aka 'non-gamers' (whatever this means) on the street join and play games. One of the best aspects of the currently rising indie culture is the movement to break free from old 'gamer' tropes, clichés and stigma and connect to other cultural scenes and 'normal people', making games more culturally relevant and mature.
That complete outsiders spontaneously joined, even though they didn't know about the event and were just passing by on the street was one of the reasons why this party was great. One of our fundamental motivations for creating and curating indie games is to try and support this movement within games.
Outside the arcade, Doug from Die Gute Fabrik set up his Johann Sebastian Joust game, which does exactly the same. With Joust, he has has created an approachable digital game that blends the borders between digital, analog and folk games. This Verge article describes it quite well.
Later that night there was a Bomberman tournament. Bomberman, or more precisely; Atomic Bomberman, is my all time favorite game. I've always said, that after this version of Bomberman there hasn't been a reason to create a game, since none will ever trump it. However, one can still try.
All through my university time, I played this game every day. Unfortunately it is a dated game, and therefor no real competitions in it. Otherwise I am sure I would win all of 'em.
This tournament however, was not in Atomic Bomberman, but in some old arcade version of the game. The responsiveness and precision of the arcade sticks gives way for some randomness compared to Atomic Bomberman, which can be discussed if it add to the fun or not. However, standing physically next to each other definitely adds to the fun.
Among others I played in the tournament against Doug, who is also a potent Bomberman player AND against the local favorite Bobby – from the Ruben and Bobby combined barber shop and retro gaming shop (yes this is the fusion of his shop!) on the same street –  in the finals. Needless to say; I won the tournament! All those years of training finally paid of! When I started training Bomberman, all I wanted was a Playstation One. And then 10 years later I finally won a competition where the prize was a playstation one. Eureka!
So, if you find yourself on Nørrebro tonight (or any other night) make sure to drop by Chassis Arcade.