We need your help to remake Dark Room Sex Game
In 2008 we made a weird experimental no-graphics erotic collaborative rhythm game called Dark Room Sex Game. We are now remaking this game to be controlled with PlayStation Move controllers and we need your help (believe us, the original implementation with Wiimotes was a hassle).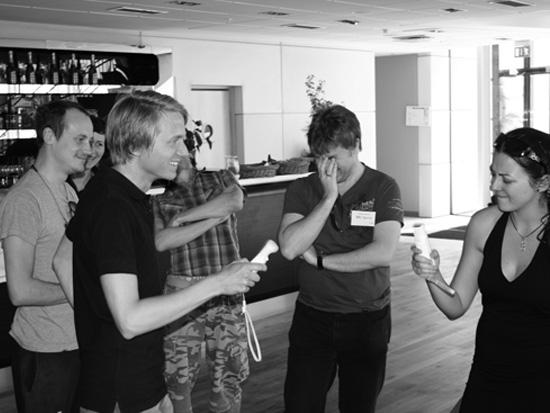 Dark Room Sex Game HD will feature easy connection with PS Move controllers and enhanced light feedback. The project is non commercial and will be released open source.
We will also completely redo the audio of the game, and that is where you come in! All the new voices in the game will be user submitted, so if you are interested in sighing, moaning, smacking, screaming and crying into a microphone for the sake of… Art, please read the instructions.
Instructions
Style
We encourage a realistic representation of sex, in all its possible and diverse representations. We believe the result will be more interesting the less distance there are between the recorded audio and the way you actually sound in "reality".
Structure
An audio file for Dark Room Sex Game consist of a series of escalating moans, 3 cries of pain and 3 orgasms.
Pain
If the other player is too pushy the character will cry out in pain. The tricky part here is to make the pain cries audible different than the moans. Each pain cry should be between 0.5 and 1.5 seconds long.
Here is a few examples of how the pain could sound
Moans
The moans are broken down into 3 categories:
1: slow moans resembling, kissing, foreplay or slow sex, about 1-2 seconds long
Examples:
2: faster moans resembling higher intensity sex, about 0.5-1 seconds long
Examples:
3: super quick moans resembling activity right before orgasm, about 0.3-0.7 seconds long
Each group needs at least 5 good clearly identifiable moans
Orgasms
We need 3 orgasms: 2 "normal" and 1 "super". Make the normal orgasms up to 10 seconds long and the super orgasm up tp 20 seconds.
Examples:
Normal:
Long:
Procedure
Get the best microphone you can find and find a nice quiet place to do the recordings. Under a blanket or a duvet in your bed is a good place to get a nice intimate recording and avoid unnecessary noise and acoustics. We recommend using Audacity if you need recording software.
We just need one long audio file with all the stuff on. We will do the cutting and editing for you. Go through the list of needed sounds and record them in one take. Please make more than necessary of each so we can grab your best ones. We know we have been pretty specific in our requirements but don't stress about it too much, we would rather have you feel natural than following exactly what we told you.
Send the audio file to
submit @ cphgc.org
include a name you which to get credited by (anonymous works).
Mp3 is fine, but we can also do other audio formats if you prefer.
Quick reference:
3 short cries of pain
5 long moans
5 medium moans
5 short high intensity moans
2 normal orgasms
1 extra long orgasm
You would do us a tremendous help if you want to give it a go.
Thanks