The weekend has passed and so has the festival. We have had great response and a lot of fun running this festival. There were so many cool game talks people, boardgame people and cool game designers running their street games.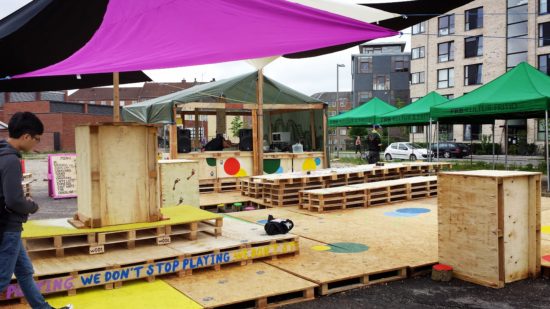 I even had a friend not usually associating with games being there with his two little daughters having a lot of fun spying on people for speed guerilla gardening and creating hummingbirdmen. Great to see this kind of involvement too.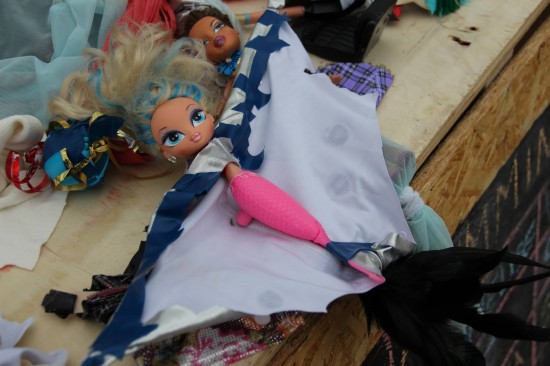 The people at vallekilde højskole – a folk high school that we work together with on other projects – created the playground for the festival. They did a great job of creating a cozy and inviting atmosphere for all the participants. It was a good area to hang out, play smaller games and have as a meeting point. Love how it turned out.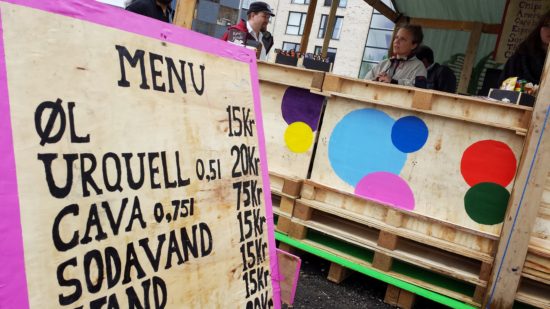 Our Swedish friend from Spelkultur i Skåne (organization for advancing gaming culture in southern Sweden. Yes they have an organization for that!), Thom Kiraly, made a nice writeup of the childrens game we ran, here is the post he wrote about the games he got to experience during the day and here is his experiences about the night games.
Many of the games were great and fun to play, not least the Opener game by Tom Russotti from The Institute for Aesthletics. A game you play with hulahoop rings attached to your head. You score by getting the ball through the hoop of your team in the end zone.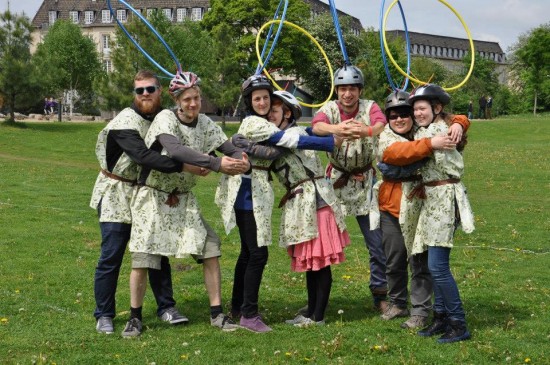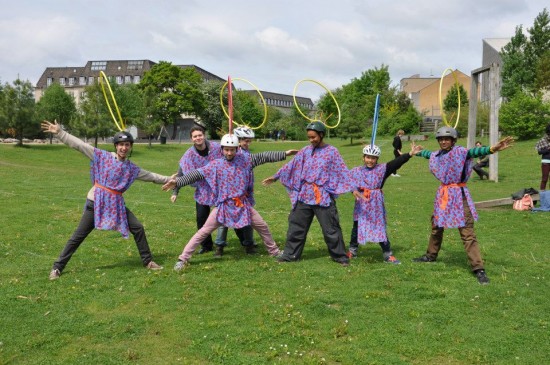 As the day progressed and turned into night, we didn't stop. We had a whole program for the night session, including two horror games after the concert. Weeping Angels by the Street Game Conspiracy represented by Philipp Ehmann and Beacons of Hope by Douglas Wilson. At the night session we got to relax and play some smaller, but unequivocally as silly and fun, party-ish games. We played Stephen Morris from Greenfly Studios' games Quick Draw and Glow Tag. Glow Tag really being a star at the night session. We also played many of our own Playstation Move Controller games including Magnetize Me. See a video of the first public three player version here:

On the second day, the weather turned horribly against us. It was pouring. So we tried to do our best at running the smaller games under cover, and waiting till there was some clearing for the other games. Luckily we didn't have many big scale games running outside. Except for a couple and the game we in the collective had created as the final, closing game for the festival: Human Tower Defence.
There was however a little clearing when we needed to run Human Tower Defence, so we quickly set it up and ran it, and it was a blast. This is the first time it has ever been played publicly and it has only been play tested once. It turned out above all expectations.
The game is a Tower defence game, made in real scale and with real human players. If you don't know human tower defence; then it is basically a game where you put up towers at strategic positions along a path. The towers can shoot at the invading hordes that are marching down the path. Bad placements of towers might let enemies through and damage the base.
This is a game played similar to that, but where the towers and the "enemies" are played by human players. If a runner gets hit by a tower, then he or she turns into a tower (tower team get max one tower, rest get to be "collectors" collecting balls for the towers). The game is played through many rounds where the enemy survivors get new upgrades to better withstand the increasing amount of towers. They can upgrade to catchers, disabling a tower on a caught ball, they can turn into heavies, which get shields, or medics that can heal one person etc. Towers also get upgrades.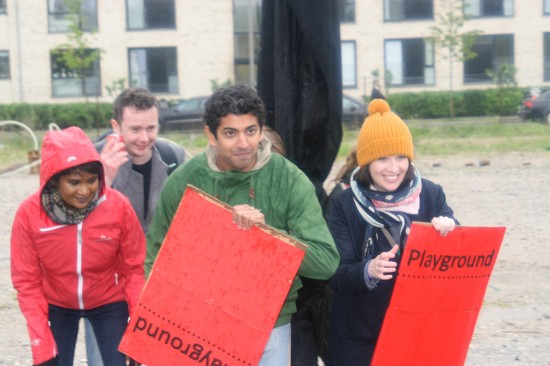 It was so much fun, that even though it began to rain, we still played two rounds and got soaking wet.
We dried up a bit in the café area, and then we went into town for our final venue.
But of course we didn't stop playing, so we played our own Train Mafia on the way, in a revised and sped up version, since we only had 5 stations, and 10 minutes to play.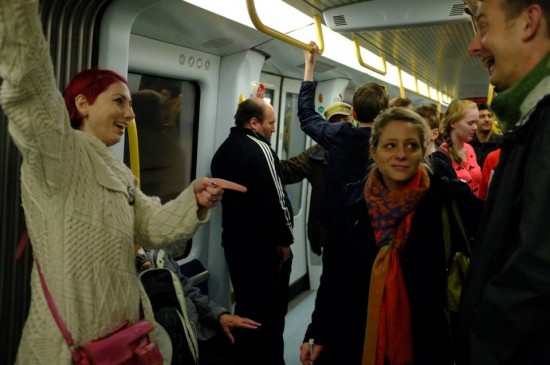 After a nice round of speed Train Mafia, we went to a bar and had some drinks and reminisced. Thank you all for making it a great festival.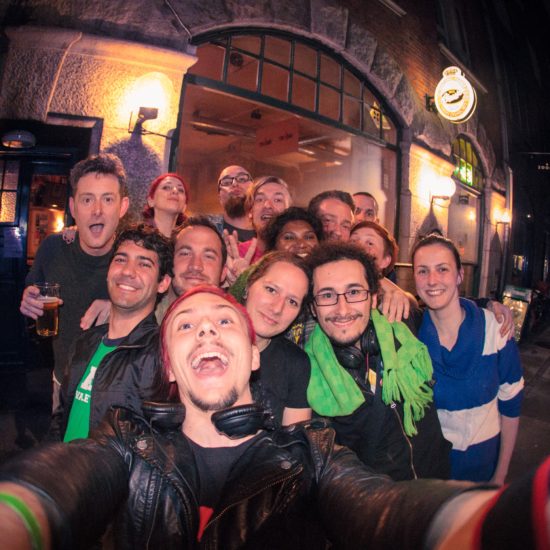 Tommy Rousse was cool enough to go around and take pictures at the event and provide them as CC-by for free here:
http://www.flickr.com/photos/tdza/sets/72157633716313695/
http://www.flickr.com/photos/tdza/sets/72157633719113967/with/8845694622/
We also got mentioned in danish media. w00t w00t!
Check out the facebook page for more info and pictures: https://www.facebook.com/w00t.dk/photos_stream