Alt Ctrl online game jam (Sep. 12 – Sep. 22)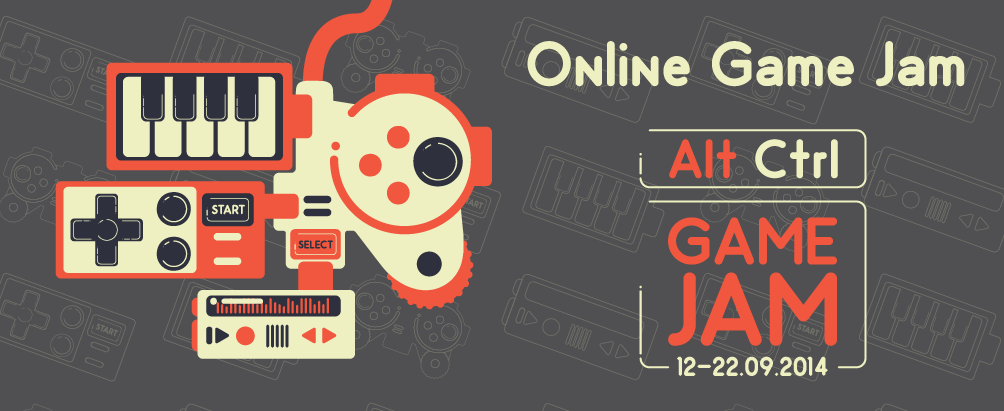 We are excited to announce that we are co-organizing Alt Ctrl Game Jam, an online game jam about experimenting with game controls. The jam will be happening from Sep. 12th – Sep. 22nd. It is a 10 day jam with a goal to inspire the use of alternative controls in games.
So take out the duct tape, soldering iron, some spare parts, a development board (like the arduino), old controller shells you have laying around, and make the ultimate controller for your game.
If you don't feel like you're too good with gluing things together, soldering etc, you can get creative with the things you already have: Kinect, PS move, Wii Remotes, brain scanners, etc.
The jam is online and everyone can participate, but we have also worked on setting up a few physical locations for jammers. We have two confirmed locations: Skopje in Macedonia and Aarhus in Denmark. More details and specifications for the physical locations are coming soon.
We also encourage supporters from all over the world to organize and setup local hubs for the jam. If you do so please write to us at info@cphgc.org and we will announce your location.
For more details regarding the game jam, participation, voting, awards… check out the official Alt Ctrl Game Jam page.
Here are some inspirational thoughts from the organizers and why Alt Ctrl game jam is good and necessary for the game development scene:
Dajana Dimovska (CEO @KnapNokGames, Chair @CphGC):
I develop, play and exhibit diverse games, but games with alternative controls have a dear spot in my heart. Making games that go beyond using common controls (keyboard, mouse, gamepad, joystick) is not only producing original game experiences, but also giving us a new perspective of how we interact with games and each other when playing them. For inspiration see some of the Copenhagen Game Collective projects: MAGNETIZEME, AAAARGH!, VIRTUAL INTERNET HACKER VR, DARK ROOM SEX GAME, MITT ROWDY, and others.
John Polson (Indie-Fund.com game scout, alt.ctrl.GDC co-creator, GDC Vault asst, Media Indie Exchange co-founder):
Games often feel as if they are built around the ways people can interact with them. People who are put off by a controller or keyboard with tons of buttons and arrows have probably steered away from games for decades. Thanks to things like Nintendo's Wii controller, a huge audience of new gamers emerged with a return of old. Other inventions like the GamePad, Kinect, and Move have been less fortunate, but it is through successes and failures that we learn what new ways to play can work.
As we enter this new era of Virtual and Augmented Reality, I think we'll start to see more alt.ctrls pop up to help us interact with games in new ways, too.
In the end, I think celebrating and advancing video games shouldn't be just about what we play, but how we play.
Martin Pupkov (Artists @Dark1_games):
Coming from a heavy FPS and RTS background, I have mostly been playing games using the standard combo of a keyboard and a mouse. Experiencing the Kinect and the Occulus Rift showed me that there is a whole new way of interacting with games, making them far more immersible and enjoyable. Can't wait to see what else can we do with everything that we have and not useing it!
Kristijan Trajkovski (Programmer @Dark1_games)
Game controls have been unchanged for a very long time. It's time to change that!