ALL THE RAVE: Nordic Game Jam 2016 Pre-Party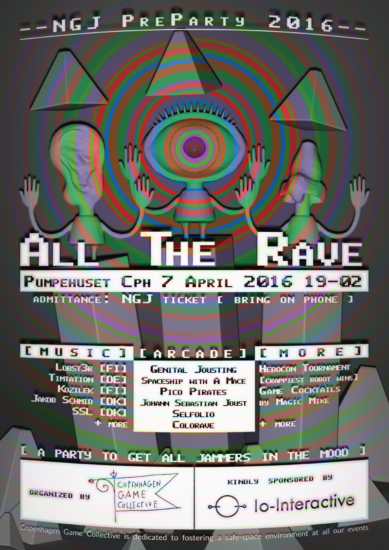 A party to get all you jammers in the mood for 48 hours of sitting in one place staring at a monitor.
This year it will be bigger than ever before and that's why we are having it at Pumpehuset. There will be an arcade of the newest coolest indie games together with some nordic classics, and of course, crazy music as always.
As a new thing, there will also be the amazing Hebocon Tournament during the party. The robot contest for dummies where the most magnificently crappy robots win!
https://www.facebook.com/events/1106672602699669/
Game Cocktails by Magic Mike → @ [www.gamecocktails.dk]
Free Royal Økologisk beer 19:00 – 20:00
This time the party will be held at Pumpehuset and is sponsored by the awesome IO Interactive → @ [www.ioi.dk].
♬ Music ♬
‣ Lobst3r [FI] → @ [lobst3r.bandcamp.com]
‣ Timtation [DE] → @ [soundcloud.com/timtation]
‣ Kozilek [FI] → @ [kozilek.bandcamp.com]
‣ Jakob Schmid [DK] → @ [soundcloud.com/schmid]
‣ SSL [DK] → @ [http://sidselhermansen.net/]
and more
★ VJ ★
‣ Who is Pi?
★ Arcade ★
‣ Genital jousting
‣ Spaceship with a mace
‣ Pico Pirates
‣ Johann Sebastian Joust
‣ That Selfie Game – previously known as Selfolio
‣ Colorave – LIVE GAME
– Entry with NGJ ticket (bring it on your pocket computer) –
_______________________________________________
Copenhagen Game Collective is dedicated to fostering a safe-space environment at all our events: this means creating a space where all people, of any orientation, gender identity, and race, are respected, accepted and welcome. Harassment is not tolerated. Attendance at Copenhagen Game Collective events implies that the participants agree to, and will abide our Safer Space Policy
www.copenhagengamecollective.org/safer-space-policy