written by Ida Toft and Sabine Harrer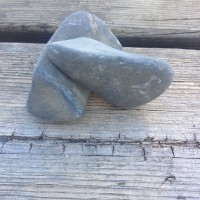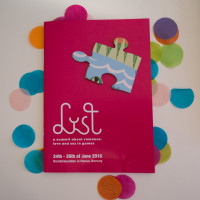 Soaked in love, smiles, and comfortably overstimulated, we returned from this year's Lyst Summit and Game Jam. We noticed quickly that Lyst's mission to "celebrate Love, Romance, and Sex in Games", had caught on: These were some rather flirty, rousing  48 hours. In what follows, we'll report from our experience as Lyst attendants, growing the little game Get Your Rocks On, while also growing more intimate as a team. One thing is to have fun at a game jam doing cool shit. Another thing is to do all that while spending that entire jam flirting, ping-ponging compliments, sensing the other people's physical presence and building mutual trust. We used Lyst to do just that, and we can recommend it.
How did it all happen? Let us start by saying that Lyst has a tradition of immersing participants in unusual and dauntingly beautiful environments: In 2014, the event took place on a rocking boat; the year after participants camped on a secluded island, and this time we were invited onto the magical premises of Hamar's Domkirkeodden: an historical monastery site, complete with meadows, trees, and framed by Norway's largest lake. Since good weather allowed for outdoors jamming, Hamar's nature was a major inspiration point for our game.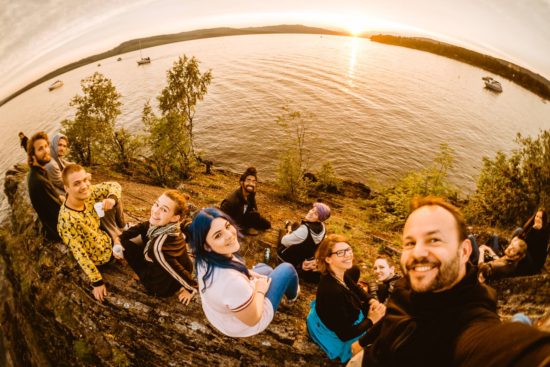 The Rock as game platform greeted us as soon as we arrived in Hamar. To celebrate the Norwegian summer solstice "St. Hans", some Lysties had gathered on a hard, rocky precipice gracefully disemboguing into the lake. The rock endured our fumbling, crawling, pulling and shoving with utmost stoicism, waiting for us to get our asses into semi-comfortable positions, smiling into impatient camera lenses. Waiting for a sunset that never quite arrived up there in the North.
It wasn't until after the Summit the following day that we found out who our surprise teammate was: At the risk of drowning us in a sea of wit and professional sassiness, the organisers had put us in a team with playful design legend Simon Johnson from Bristol. We used an entire second breathtaking sunset at the lake on bonding over broken narratives, possibility spaces, and the beauty of simply being in the moment. Among other stuff, we agreed that rocks are good at that. And that we really like rocks for that. We also shared past experiences, and what it was we wanted from making games, again. For us (Ida and Sabine) designing games so far has been much about balancing evocative materials with broken language. Evocative materials are platforms encouraging the player  to do things that are often surprising. Broken language (language custom-tailored to the event) can be of great help when it comes to lubricating that platform. In the past, we made people enjoy rubbing their prosthetic noses against each oher while finding true love (Lovebirds) and made them be thanked for pleasuring a punny digital vulva (Cunt Touch This).
We started the next day revisiting our common fascination with rocks. Their features, shapes, sizes, and colours were somewhat impressive. The way they felt, looked, smelled! The stories they would tell about the world if they could! We swarmed out and collected rocks we liked: Rocks that stood for a desire or fantasy, and rocks that were something we wanted to become. We sat down and took a moment to comment and compliment each others' rocks.
It came in handy that during breakfast we had researched tutorials on dirty talking, learning, among other things, about the importance of paying attention to detail. This helped us note subtle features like surface structure, cavities, shapes and sizes affording different ways of rock fumbling. We observed that concepts like smoothness or roughness intersected handily with the language of intimate play. While making such suggestions, stroking rocks of interest, eye contacts grew longer, voices softened, and bursting laughter became more regular. We had commenced flirtation mode, and we were not about to stop it until goodbyes.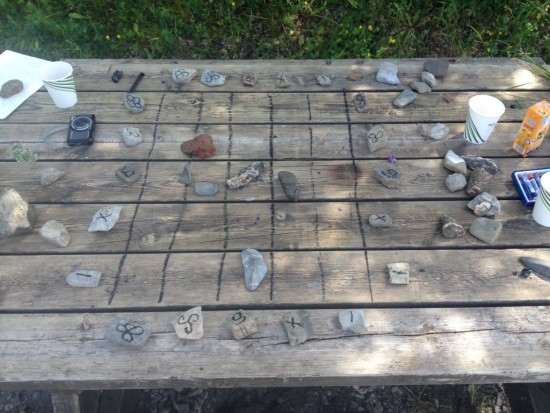 The next challenge was to transform rock flirtation into a game. We started by drawing a game board and experimented with moving rocks collectively. The first idea was to Get Your Rocks Off: Players would follow the goal of rolling a rock towards a desired edge of the game board helping a fellow player score. While this iteration featured gentle power play and some extent of sweet talk, the problem was that by moving rocks towards a particular point on the board, attention was too focused on decision making, planning, and transport, rather than touch and sensuality.
We stopped there to take a break and go for our first swim in the cold Norwegian lake water. Dipping into the freezing waves was an intense feeling, powerfully refreshing body and mind. Back on the beach, we casually picked up a stone and tried something else. One of us tried to communicate a flirtatious phrase by caressing the rock's surface only. That task was surprisingly difficult. Some words were better expressed through a rock than others: "Smooth" was possible to communicate, for instance, by stroking softly over the stone's surface. "Hard", on the other hand, was impossible to express through an object that's hard by definition. However, that little game got us back from planning, and transportation towards touch, flirting and feeling "on the spot". It emphasised the possible role of the rock as a proxy for relationships: By means of being hard, it was an excellent platform for mediating subtle movements and shifts of power between players. It was a matter of finding the right game verbs and set of rules to facilitate a kind of movement that would encourage flirtation, gentleness, teasing.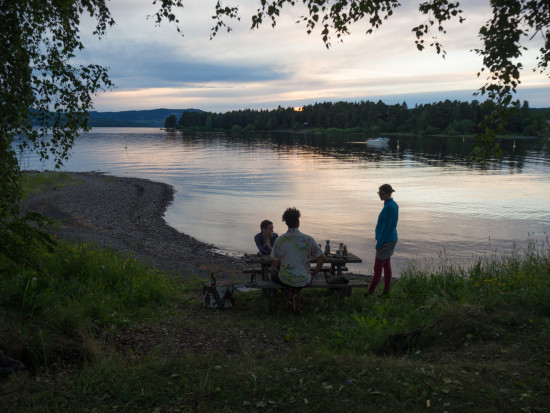 As usual, we used a fair amount of punographic language: We focused on game verbs that would drive action through lame wordplay. What was important here was a balance between meaning and function: Flirtatious puns are fun but in a game they should serve a particular function. What often happens is that words override and dominate the action. The art is to keep words and action at eye level so they can dance together. We worked on appropriating phrases that sound like dirty talking elements, phrases we intentionally broke and bent from their original contexts. In other words, phrases that facilitated dirty talking on the rocks.
We devised a rockabulary, which sported terms like "head-on", "rimming", and "nailing". Rather than picking up on real-world meanings, these terms describe possible game actions; ways of fingering and positioning the rocks. In other words, they refer to fairly innocent moves while also tapping the register of flirting, and players' imaginations of erotic practices.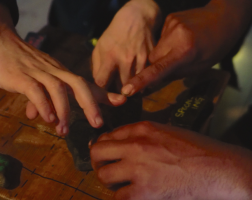 Among our fellow Lysters the most noteworthy rockabulary item was erocktion. An erocktion is achieved by balancing a rock vertically along its longest axis with all players' fingers meeting at its peak. It is the first mandatory step towards fulfilling other erocktic dreams and desires (i.e. building one of four erocktic sculptures). Erocktion as a term invites associations to the stiffening of nipples and the expansion of the clitoris when sexual arousal sets in. That players kept referring to erocktions instead of using the real title is a laudable sign that such pleasures are finally celebrated within the game community. Some bold players even decided to lubricate their fingers before getting their rocks on. Stakes were high, apparently, to get optimal purchase on even the smoothest of rocks, and make oneself useful for others.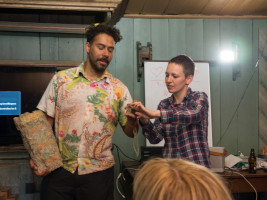 The request for erocktions did not wane after Lyst's closing showcase. As people wanted more, and our team got exhausted, things moved away from the board and fingering continued in the open. The final version of Get Your Rocks On is playable on any flat ground, using 10 stones and a couple of phrases that are easily acquired over a glass of wine. During the last couple of Lystie hours, the game thus received a final makeover, stripping off some of its layers for us. By arriving at touch and improvisation, we got it to a point where it opens an intimate playful space using found materials and appropriate language. We couldn't be more proud and grateful to be part of  a community where such things happen.
To play Get Your Rocks On, get the rules here: Get Your Rocks On Rules.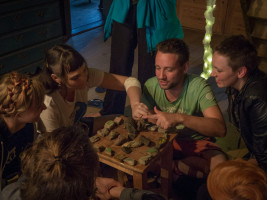 Acknowledgements: Big thank yous to Gemma and Robin for allowing us to use their photos, to all our flirtatious players, and to Patrick, Andrea, and Runa for organising this year's Lyst!