Pokémon GO: Pervasive Gaming for Everybody
At the collective we've been active in playing the cities and the streets for many years. We've played games in public and have looked very awkward in doing so, at times. We've conducted festivals about and designed games for public play. And while the reception of those games has usually been great we never expected any game to become as visible in public space as Pokémon GO.
The game is a phenomenal cultural success that popularizes social play in public space like no other game before. It is also a huge financial success for every one of the many companies involved. Finally, Pokémon GO is also a technological success in that it brings gaming to a whole new demographics by making exemplary use of a device people already have in their pockets. Here's a short list outlining some ideas about why Pokémon GO managed to achieve all this and how that fits to our ideas of play:
Pokémon GO and GPS on mobile is a match made in heaven. While a lot of the players were not aware of the details of the Pokémon brand before starting to play, the general idea of Pokémon – little pocket monsters that you catch by throwing balls at them – is very easy to communicate. Marrying this core idea to locative gameplay and launching it on a device that players already use every day is a match made in heaven.
Pervasive games were around for a long time, paving the way. From the early experiments of Blast Theory to Niantic's Ingress, public access to highly accurate GPS signals allowed a new class of games to materialize. Importantly, this is yet another area of games where the groundwork has been laid in academic projects. At the same time, one could argue that events in public space like those hosted at Ars Electronica and the w00t festival have sensibilized the audience as well as the public.
Pokémon GO is not the future of gaming – but it hints at it. Winter is coming, and with it comes a cold that prevents your fingers from accurately throwing little red balls at pocket monsters. That fact might by itself be enough to prevent Pokémon GO from having lasting appeal. But even if Pokémon GO survives the winter, my best guess is that the lasting effect of the game will mostly be that the link between the virtual and the real world got one more facette. Future games will continue to work on this interesting intersection of two worlds. Finally, it is important to note that Pokémon GO does not use any technologies that have not been around for years. It's a design innovation and not a technological one. Instead it finally marries established but disparate technologies – GPS-based map navigation, AR camera overlays and a server/data-driven architecture.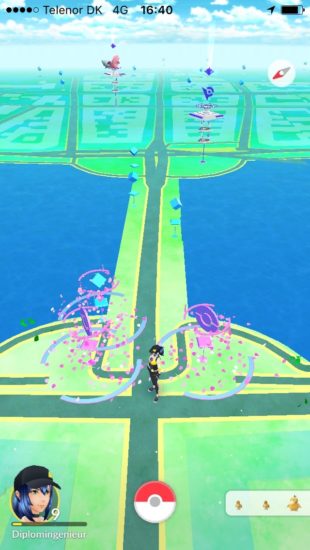 On the not so bright side, of course a game could use less technology to achieve so much social impact. It could be more inclusive and available to everyone instead of starting in rich western countries. One could also discuss the way Niantic is handling server issues and how the game needs its thick social layer to make up for questionable game design decisions.
Yet personally, I'm excited The Pokémon Company took the risk to bet on a pervasive game. They could've made an endless runner or a lightweight RPG to cash in on their brand. Instead they took to a genre that has previously been explored by new media art pieces, tourism apps and academic projects. By successfully launching the first mass audience pervasive game, they made life more playful for millions of people. That is a wonderful achievement and the future of games looks a bit more diverse, varied and interesting now. Let's make more games that change the face of the city & allow you a new perspective on your surroundings.
(Top photo by Traci Lawson)