Discover the new Indie Day
During the last many years, or even since the term was conceived, the question of what indie games are has been slung around. It is not even a novel dilemma, and neither unique to games. Music has gone through the "indie" discussion and subsequent "revolution". We, that is the Copenhagen Game Collective, have never concerned ourselves with defining what "indie games" are. We have always been interested in pushing the artistic, social and cultural boundaries of what is considered a game. We do that in many different ways; By creating weird experiments, making our own events and also by helping others curate events. One such event is the Nordic Game Conference (NGC).
We have had a long history of making a thing at the NGC before the actual conference. That thing was a party, the Indie Sensation Awards and then later a non-conference. It was known as the Nordic Game Indie Night. And to our surprise, this thing became bigger and bigger and more and more popular. So much so, that there wasn't enough space for it inside the conference.
So last year the NGC organizers decided that they would like to invite us in, to organize a part of the conference. And our Nordic Game Indie Night became a Nordic Game Indie Day. We got a whole day conference where we were free to curate "indie stuff" followed by the party and the Indie Sensation Awards.
This was a cool move forward, but there were a couple of side effects:
The party sucked. (as it was Friday and people were tired)

WHAT IS INDIE?!! (the program was unclear)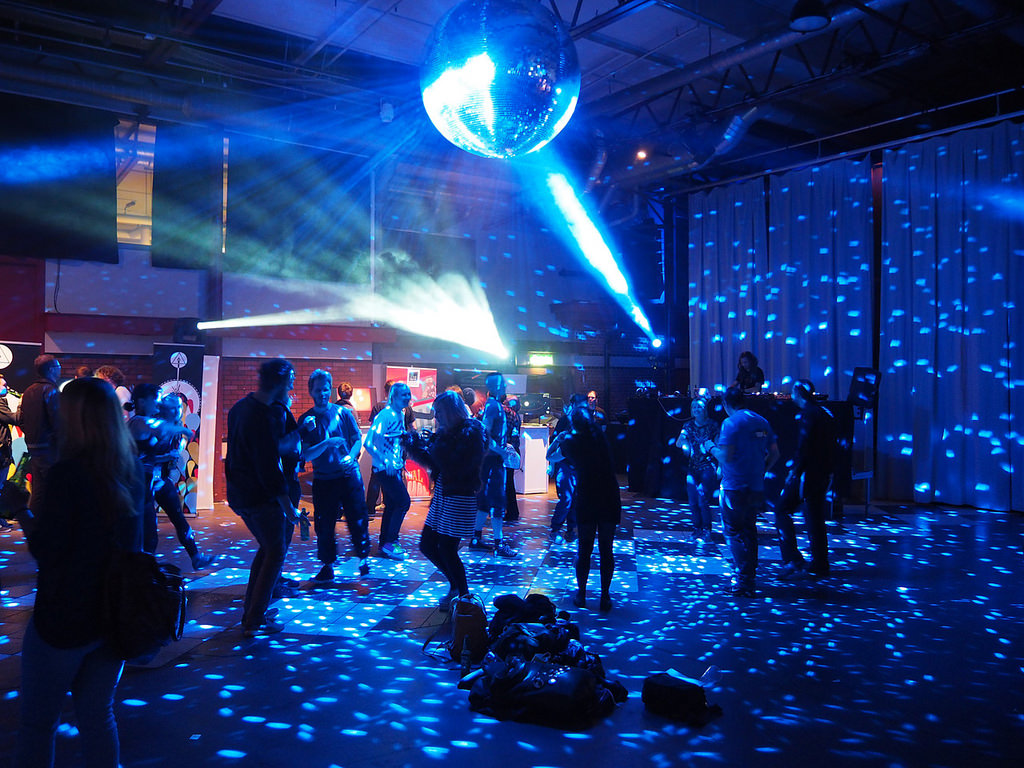 Having a party at the end of the conference just doesn't have the same OOMPH as hosting it before the main event. The new party was for guests of the conference only, as opposed to our free events earlier. Our conclusion for this year is that embracing the laid-back mood of people on the last day is the way to go, so we swap the party with a cozy chill-out to round off the conference. But where will the Indie Sensation be? Well, there is also big news here, but this will be a separate post a bit later. Suffice it to say; It's growing and becoming more cool.
The other problem with the Indie Day was curatorial: we never explained why specific speakers would be interesting – being "indie" and interesting were our only criteria. However, there was a big confusion in our guests about what constituted an indie talk and what made a speaker indie. Indie speakers ended up in the main track and vice versa. Aren't we all indie anyways? Or are none of us? We don't know. Who knows?
So we decided to take a step back and rethink our mission as curators. The main contribution of the indie day was always that it brought more thematically diverse topics to the table – that it regards games as an art, a craft, and a business. We invite people that open our eyes, present new viewpoints or in other ways make us discover something new about games. So we figured, why not call this day the "Discovery Day" from now on? Because discovery is what it is about.
Yet we're taking it one step further than that! Instead of just selecting speakers that help you discovering, we wanted to have a curatorial theme that links all presentations. It had to be a topic that allows for an artistic angle and also connects the practice of making games with the life of the creator. Starting from the word passion, that describes why we all make games, we went in four different directions:
Drive – the passion that keeps you going despite the world falling apart

Feeling – pleasure and fulfillment in games and outside

Empathy – having a heart in this grim world

Persistence – making games while you have a life
What we will do on the Discovery Day is to attack the topic of passion from these different angles and give you a variety of takes on what it means when creating games. From the drive that keeps you going to empathy for players with less and less time at their hands, from the pleasure that games can create in players to the persistence you need to survive as an artist, the talks will shed a light on the passion that keeps us all going. Come join us for the first ever Nordic Game Discovery Day on May 19th.