The Copenhagen Game Collective went to the US of A! Part 2
[singlepic id=348 w=500 float=]
Culver City, brutalized!
(Part 1 here)
After our stint in NYC, we headed west to California to attend IndieCade 2010, to showcase B.U.T.T.O.N. It was our third IndieCade in a row! But as I mentioned a few weeks ago, this year had a special significance for us, given that we had met Nils two years ago at IndieCade 2008.
This year did not disappoint! The festival was bigger than ever, packed with all sorts of lectures and crazy games. And yet, for the most part it managed to retain its homespun communal feel. Still, it's staggering to think how much the festival has grown over the last two years ago. Just two years ago, there were only a handful of us developers packed into one small room in Bellevue, WA. Yes, I sound like a wistful old man.
Like we did for our exhibits at Roskilde Festival and Babycastles, we prepared special cardboard masks (designed by Nils) for the occasion. The masks were a big hit, of course. Playing with the masks on makes the game all the sillier. In some sense, the masks serve as a kind of psychological motivator – I mean, if you're already wearing such a silly mask, you might as well go full throttle, right?
[singlepic id=349 w=500 float=]
The dude in the cat mask is amped up – understandably.
We also won an award! We won the "Wildcard Award," a category for games that don't quite fit the normal judging criteria. For this, we are thrilled – it's a fitting category for a game like B.U.T.T.O.N. Actually, in perhaps our craziest moment of the whole festival, we managed to snag a post-award photo with the Old Spice Guy (!!), Zach Gage, and our cute designer trophy… while still wearing our masks. I've been in a lot of epic photos in my day, but this one very well might top them all.
[singlepic id=350 w=500 float=]
Man, I love this photo.
Actually, the whole award ceremony was completely nuts. All sorts of other random celebrities materialized out of the woodwork, including LeVar Burton, who MCed the event. Surreal. Burton, by the way, tried B.U.T.T.O.N. back at E3, and we even got him to act like a ninja.
At the ceremony, some of us (read: the Danes) got a little… inebriated. We improvised a little game: if we were to win an award, we would race to see who could touch the trophy first. Hilariously, we did actually win an award, and chaos ensued (of course). Nils took down most of the beers on our table as he stumbled to get up. And just for kicks, I tackled Lawrence to the ground on stage. So, Lau won quite easily. After we rambled into the mic for a while, Burton even told us "to sit the hell down." Awesome!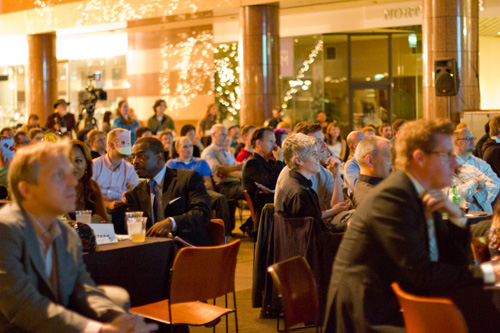 This photo is subtle but hilarious. If you look in the background carefully, you'll see Lau with his cat mask on, right behind LeVar Burton.
Showcasing B.U.T.T.O.N. off to the public was fun (as always!). We were using a special custom big-button interface designed for us our friend Jesper Taxbøl with support from Labitat. The visceral feeling of smashing the big buttons was glorious, and clearly added to the experience. Nonetheless, it was very difficult to defend your button from being pressed by others, so some win/loss conditions didn't make as much sense any more (e.g. "Anybody whose button is pressed loses").
| | |
| --- | --- |
| [singlepic id=356 h=350 float=] | |
If I should make any self-criticisms, I would observe that B.U.T.T.O.N. can be somewhat… confusing. If we the developers are around to impart the right "spirit," everything goes swimmingly. Sometimes we have to tell player "hey, maybe you should think about pressing the other players' buttons." Then, suddenly, they get it, and the brutality is on! But without us there to give those tips, players don't always catch on.  We wanted to make a game that noisily disrupted the conventions of console gameplay, but boy, it sure can be tricky to get players to realize that there exists an alternative approach to console gaming in which you can also have fun cheating and "using" your opponents' controllers.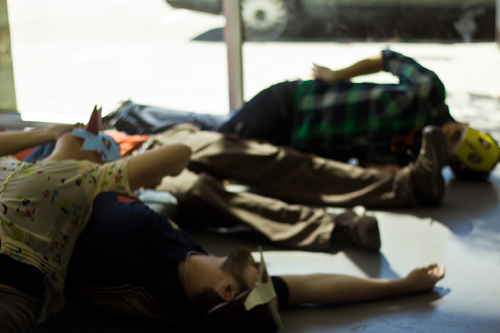 The game instructing players to "play dead"
For better or worse, B.U.T.T.O.N. depends so highly on context and atmosphere. There's a reason the game seems to work so well at loud parties. You gotta be in the mood, so to speak, to experience the game in its full splendor.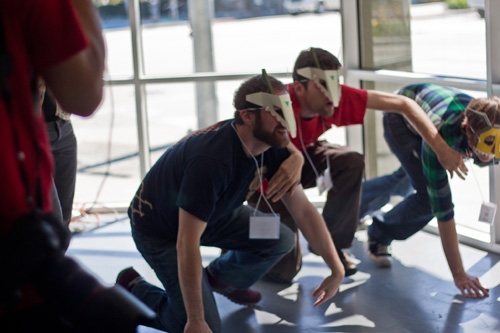 The scramble is on!
All that said, lots of festival-goers did enjoy our game! It was especially gratifying to see children have fun with the game.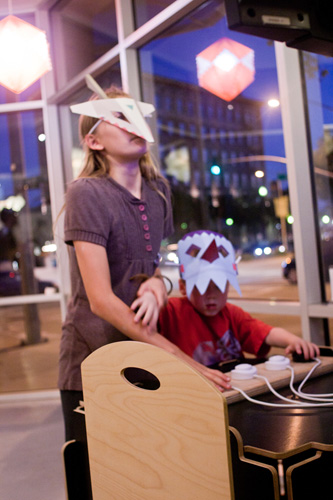 Kids enjoying B.U.T.T.O.N.!
My own favorite game at IndieCade this year was Matt Parker's Recurse. Simple, digitally-mediated physical fun. Just how we like it! I especially dig that the high score list is accompanied by photos of the players in action. Over the weekend, we kept playing the game with our masks on, just so our photo would remain on display. Matt has also created a number of other cool projects, like this beautiful 3D light display.
Other highlights: My micro-talk on "people-centered" game development went well enough (albeit slightly corny). Our friends at Spaces of Play showed off their beautiful iPad game Spirits. Lau and Lawrence had lots of fun playing Humans vs Zombies, in which Lau was pwned by a toddler (no joke). And all of us thoroughly enjoyed playing breakout folk game sensation, Ninja. We're itching to run that game here in CPH…
All in all, another very memorable IndieCade. Thanks so much to everyone who made the festival so enjoyable for us!
(Note: Several of this photos – the ones that link to Flickr – should be credited to IndieCade, and are used here with permission)