Abusive Games Julefrokost at Babycastles!
B.U.T.T.O.N. and Dark Room Sex Game are returning to Babycastles – with holiday spirit!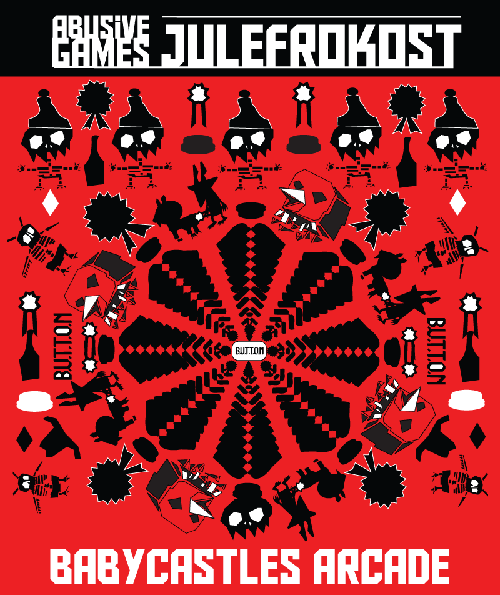 Flyer design by our awesomely talented friend, Joost Meeuwissen.
More info at the event's Facebook page, here.
We had a blast throwing our Brutally Unfair Game Bash at Babycastles Silent Barn this past October.
So, next week, Thursday December 23, Doug (me) will be back in town to "abuse" the new Babycastles Arcade in Manhattan.
What's a "Julefrokost," you ask? It's a Danish tradition – a Christmas lunch, filled with alcohol, holiday cheer, and debauchery. The following description, which we found on the Internet, is quite fitting:
A Julefrokost is a feast of epic proportions. It's expected to last six hours or more, so guests must be interesting, or at least entertaining, especially when intoxicated. Picky eaters and mean drunks are not ideal invitees.
At Babycastles, Doug will be serving traditional Danish Christmas food, imported straight from Denmark. Also, Danish booze. Mmmm, snaps.
To kickoff the night, Doug will be giving a lecture on Abusive Game Design. He'll be joined by our friend Zach Gage, who's going to talk about his notorious game/virus Lose/Lose, as well as tabletop game design legend Greg Costikyan, who will talk about his satire piece, Violence: The Roleplaying Game of Egregious and Repulsive Bloodshed.
Then, the party is going to be bonkers. In collaboration with Babycastles, we're going to run a special "cyborg remix" of B.U.T.T.O.N. in which four dancers wear controller-suits and a fifth dancer wears the screen(!) When you rush to the "controllers," you'll actually be rushing to moving human beings. Wicked! Just make sure the screen doesn't run away…
We'll also be showing a special Xmas remix of Dark Room Sex Game. Here's a hint: "I saw mommy kissing Santa Claus"
Finally, we'll be presenting some of our favorite abusive games. See our event page for the full lineup.
The best part is, we're going to double down on the abusiveness and present the games in an abusive manner. How so? Well, let's just say: it's not going to be easy to play Cactus' Tuning when the keyboard itself is moving…
Here are the details again:
Thursday December 23 @ Showpaper 42nd Street Gallery
217 East 42nd Street, Manhattan, NYC
Talks from 7:00-8:30pm
Party 9:00pm till late
Suggested donation: $5 – $10
More info here.
We hope to see you there!