Brutally Unfair Game Bash at Babycastles!
Are you going to be in NYC on Saturday evening, October 2? Join us for a "Brutally Unfair Game Bash" at Babycastles in Queens!: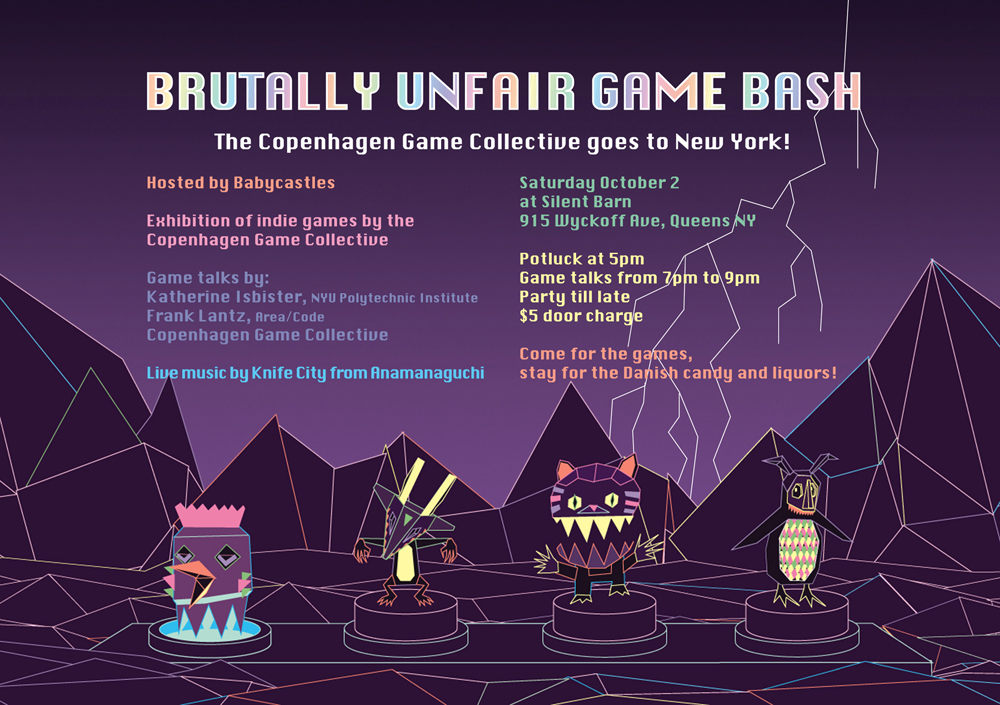 (Higher res version here).
We've planned the event together with our friend, NYC-based game artist Zach Gage. I'm very happy to announce that both Katherine Isbister and Frank Lantz are going to kickoff the event with two game talks. Lau and I will also join in on the speaking fun – I'll be speaking on deliberately "broken" games, and Lau will be talking about our efforts to push indie gaming out into the living room, beyond the screen.
After the talks, we'll be throwing a party! Knife City from Anamanaguchi will be on hand to perform some live music, and we'll be showcasing a number of our games, including B.U.T.T.O.N., Dark Room Sex Game, Rückblende, Fuck You It's Art!, and several other projects. Actually, we're going to run the official 2010 World B.U.T.T.O.N. Championship.
Here's the details again:
Saturday October 2 @ Silent Barn (915 Wyckoff Ave, Queens NY)
Potluck at 5pm
Talks from 7-9pm
Party 9pm till late!
$5 door charge for the musicians
Facebook event here.
Email us if you want to hear more about the potluck!