Our bodies might have moved from Vartiosaari, the Finnish fairytale island, ticks, amazing people, crazy game ideas and freezing nights in tents, but our hearts and minds are still lingering at Lyst 2015 in Helsinki.
This year's Lyst was the first Lyst co-organized by our Scandinavian network.
We held our Symposium in Helsinki city center in the cosy WHS Teatteri Union, and the game jam was held on the beautiful island Vartiosaari, just outside Helsinki city center.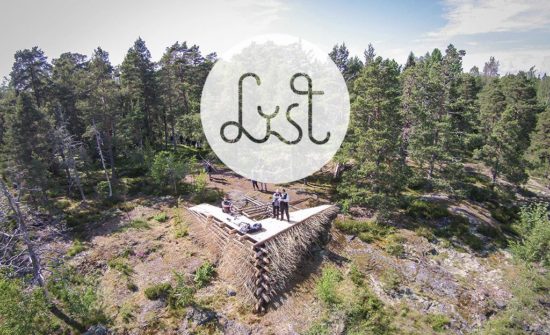 We continued the water-theme from last year, where Lyst was held on a boat in Copenhagen harbour.
This years Symposium seemed even better than last year, from talks on sex and the machine by Dale Cooper, our very own indie gay porn actor, to Hanna Wirman's thoughts on how to classify sex, porn and erotic games.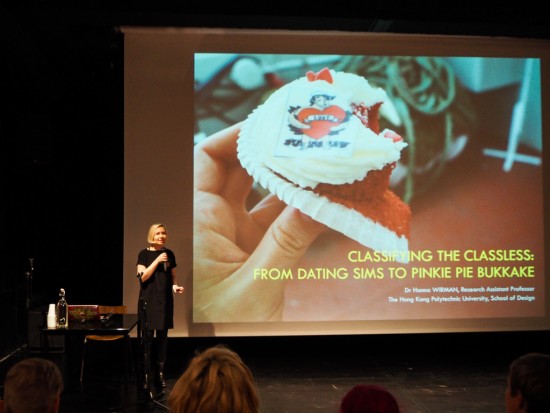 Sarah Homewood talk on how to integrate and use your own sexuality and body in your work with a spontaneous and delightful performance on stage, Mata Haggis's walkthrough of storytelling in games, Jo Richardson's research on family constellations in games from an archaeological perspective, Anna Westerlings amazing introduction to love spells in a Harry Potter LARP universe. The love spells unfortunatly only works for shorter periods of time. – 'But what to do if you want it to last?' Was a question from the audience, 'then we have to turn to potions!'.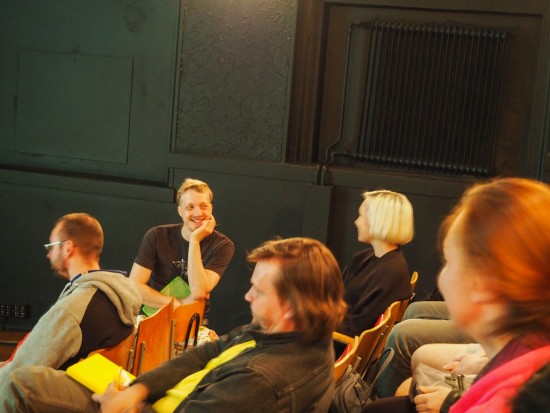 Richard Lemarchands talk on how finite players play within boundaries and how infinite players play with boundaries, a call to action. And finally ending with Pekkos Koskinen's amazing, yet, abstract talk on … hmnn… amongst other things on how to be with your partner in darkness indoors for 1 week.
Many participants had travelled from afar to attend Lyst, and they had already spend a night on the island, so the feeling of bonding started even before the Symposium day. After a truly amazing, inspiring day, where we were left with the feeling 'wow, did we really organize this?', we all walked towards the ferry that was going to take us to Vartiosaari.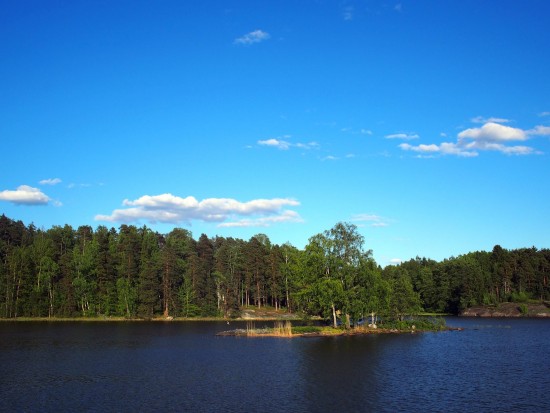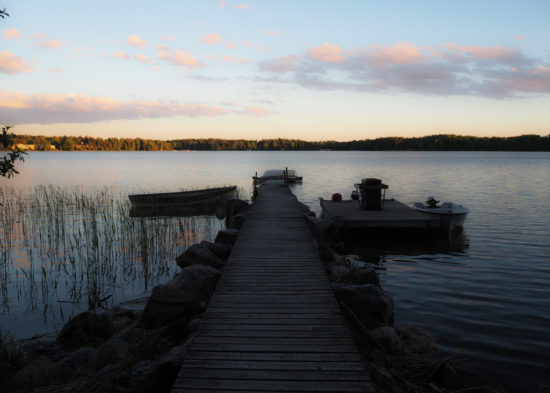 We had people settling into the camping area, and soon we went for the first dinner by the two sensational catering ladies, who somehow magically managed to make delicious and hot food, in an open barn without running water, electricity or any other modern facilities.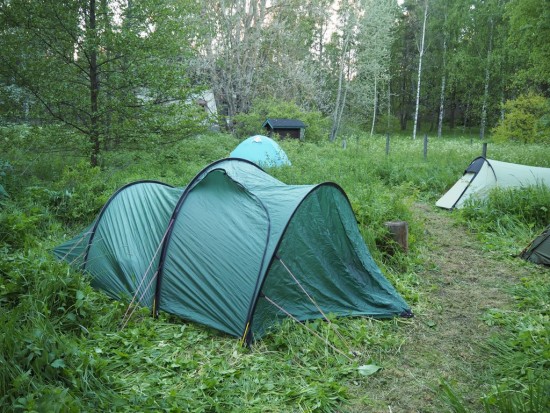 Oliver, from YKON – our partner organization in Finland – opened the ball by making an announcement in a megaphone about things like SHIT (compost toilets), DEATH (don't get bit by a tick, you might die) and true Finnish wisdom on how to get clean by sauna-ing (and not showering, as the showering was limited to 1 shower per person during the jam)
Sabine Harrer and Henrike Lode started out Saturday with a workshop on how to turn an emotion into a game, this resulted amongst other things in the game Naamico, about trying and failing to be the perfect lover.
The game jam groups spread out, working out in the sunshine to try to heat up after a cold night in the tents.
Working, walks, talks, more working, playtesting, food, sauna, beer and work.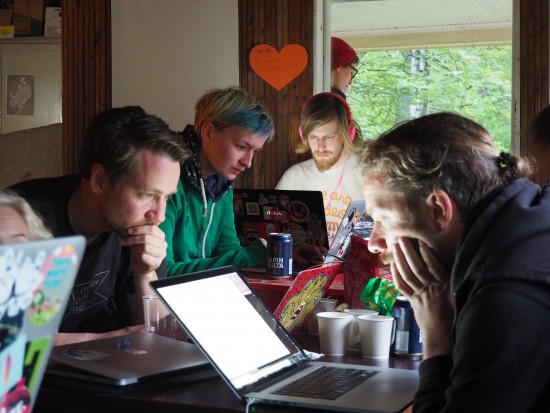 The winning game was the physical game, 'Surrender', in which the minimum number of players is 3, but up to 100 people, or more, could play at the same time. You play together in 3's.
3 people start out by standing in a line behind each other. The person in front closes his/hers eyes and the 2 people behind step out on each side of the person. They then start touching the person's arm, from the hand to the elbow. The person being touched then has to slowly move in the direction of where he/she likes the touch the most. If there's something the person being touched does not like, he/she closes the fist to indicate the 'pleaser' to stop. The one of the 2 people that 'convinces' the middle person to move most to his/hers side wins the round. The levels would increase in intensity. In round one the pleasers used different tools on the arm, and in round two they used their fingers directly on the skin. This game raised many different emotions in the players like rejection, arousal, pleasure, competition, indifference.
Another physical game was the ironic 'Fashion Party', a comment on the current state of the dictation of how we have to look.
Some digital games developed were the visually beautiful 'Regret Train', on how your can go in circles in your mind, centering around a breakup, for example, and what you have to do to 'get off the train' and start afresh, so to speak. Myling, a virtual tour of Vartiosaari island, in where you solve an old mystery. Naamico, going through the experience of trying to be the perfect lover, you have to build different masks without losing any of the pieces you've already used to build the mask. Le Fleur du mal, a digital version of 'he loves me, he loves me not'. Noahs Ark, a 2-player game where you fling animals back and forth between your ship and your partner's in order to form pairs.
Two groups made card games, they were 'Needs Garden', where you had to see if you could match each others' needs and the 'Blame Game', which is a game about abusive relationships. The aim of the game, is to, through malicious tactics, get the other person to stay with you.
Every night there was bonfire and toasting of marshmallows and extensive sauna-ing.
The saving grace of this years Lyst was definitely the warmth of the people and the warmth of the sauna!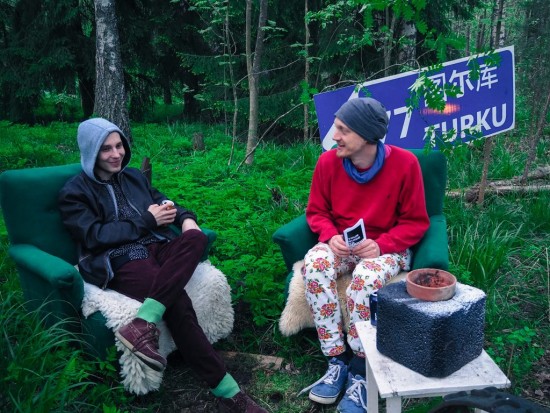 Just like last year the atmosphere was open, embracing and accepting.
Yet another year's eye-opening Lyst: It seems like the Lyst spirit and community is slowly building, we are excited to see where this will take us.
Photo credit: Gemma Thomson / Ville Hyvönen / Hanna Wirman
Lyst is sponsored by


read more: lyst-summit.dk