Nordic Game Jam Pre-jam Party 2013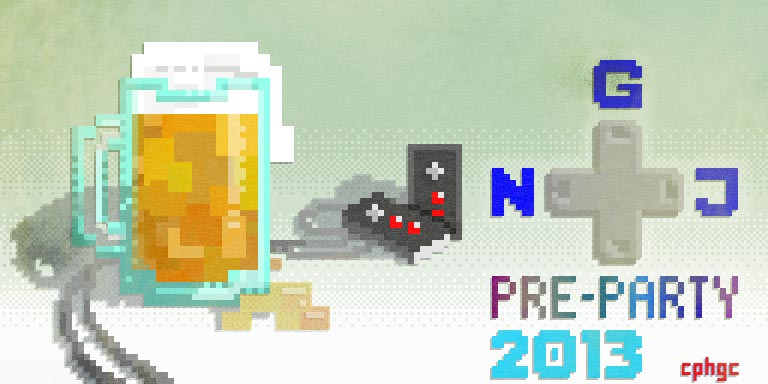 Nordic Game Jam is coming up really soon and Copenhagen Game Collective, as always, is hosting a pre-party the day before.
This year we have packed more activities into the program. There will be lots of music, social and physical games, so put your social gloves on and get down to Sydhavn to have some fun and meet some people before the big event!
INTERACTIVE DOCUMENTARY:
48 Hour Games is the world's first feature-length interactive documentary. It follows the stories of the participants of the 2011 Nordic Game Jam as they strive to create a video game from scratch in just 48 hours.With 48 Hour Games you are not simply a spectator, but also a player, deciding which characters to follow and favourite, unlocking extra video clips and achievements based on your actions, and exploring the winding road of multiple narratives.
ARCADE CORNER:
with Crime City Arcade, Chassis Arcade, BUTTFIGHTER and ERVAX.
GAMES:
Giant – Who took the apple?
Magnetize Me
Meta Murder Game
– plus more.
DJs:
Monrad
Ssl
Dines Selvig
syltefar selector
VJs:
skrumpen & sidek1ck
WHERE AND WHEN:
Thursday 17th
48 Hour Games screening starts at 18:00
Pre-party with bar, games, DJs and VJs starts at 19:00
Aalborg University – Copenhagen (Sydhavn)
A. C. Meyers Vænge 15
2450 Copenhagen
More info:
Facebook Event